Jäger enters new waters
"Jaeger Mare Solutions" is the name of the youngest member of the Jäger Group. The new company focuses on products and services for environmental and marine protection. We spoke with managing director David Baum about the start, activities and the future plans.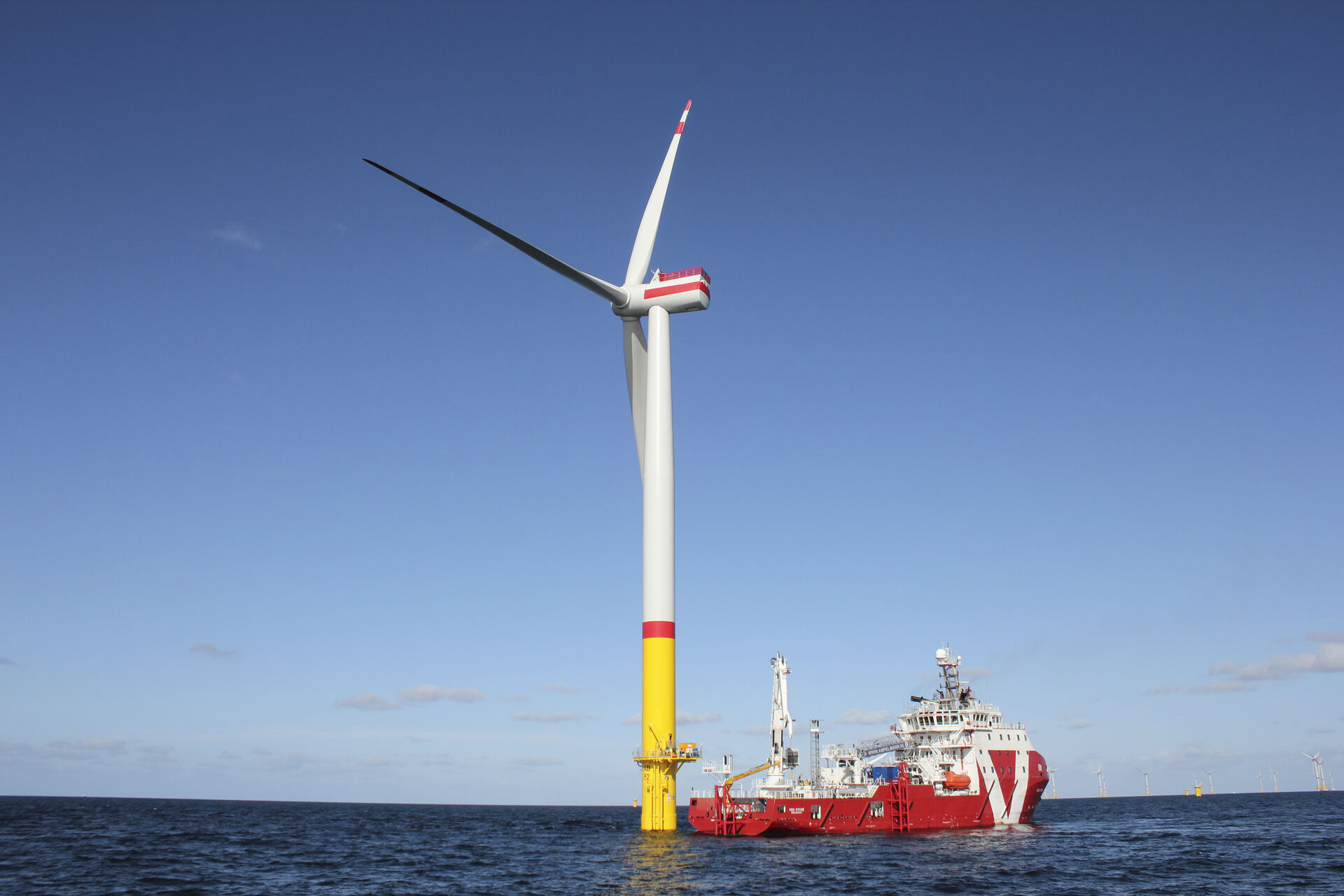 Mr. Baum, since 01.01.2019 you have been managing director of the newly founded Jaeger Mare Solutions GmbH. For Jäger, this step means going from land to sea, from onshore wind energy projects to the construction of even larger offshore plants in the sea.
David Baum:
That's right. Jäger Gummi und Kunststoff has been a recognized supplier for wind energy for many years. Wind energy has been one of Jäger's business segments for many years. Up to now, the focus has been on products for the construction of onshore plants, i.e. plants that are installed on land. Now offshore wind energy has also moved into focus: Jäger has set up its own company specifically for this purpose and is active in the construction of wind turbines on the high seas with "Jaeger Mare Solutions".
With Jaeger Mare Solutions, we are concentrating on our core business and are working on penetrating the offshore market in the areas of scour, noise and corrosion protection.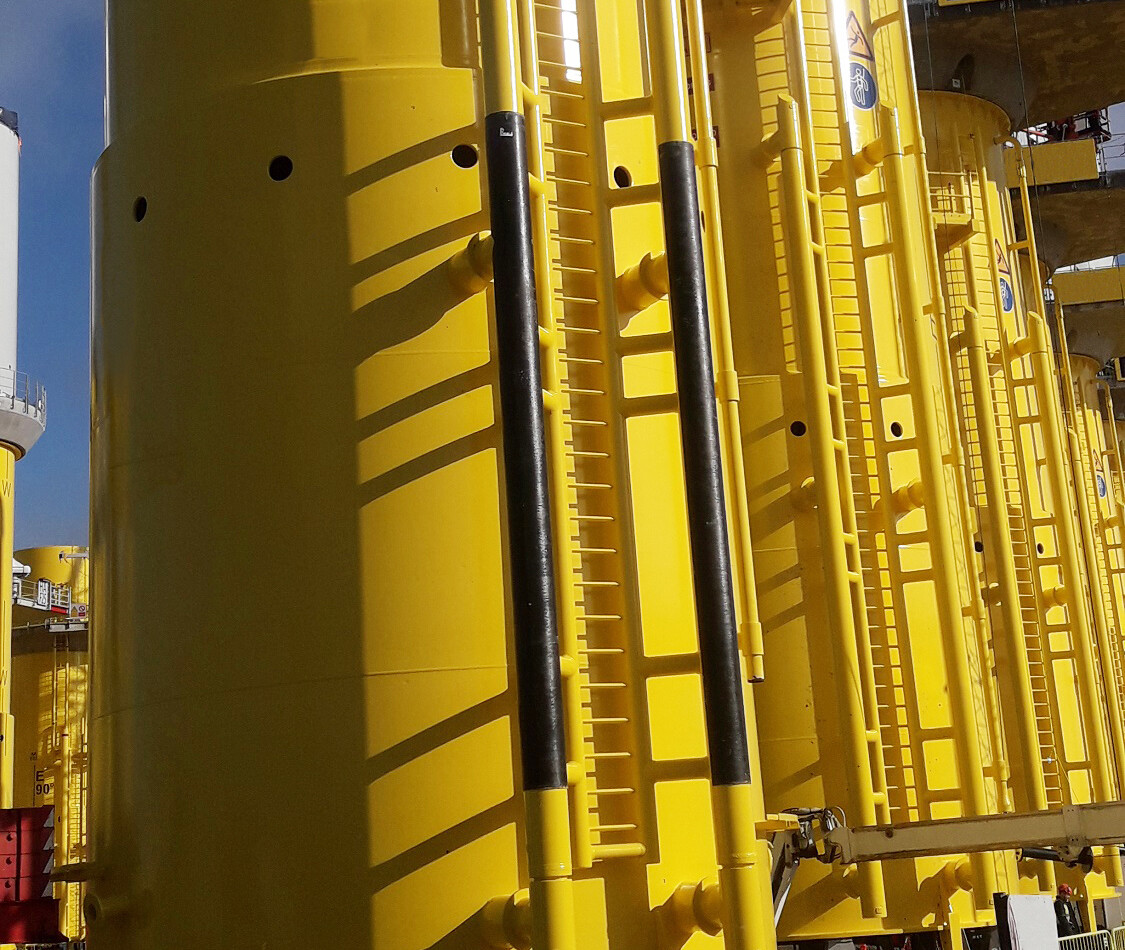 What exactly are the products?
David Baum:
Put simply, there are three areas: Protectors for protection against corrosion, perforated hoses for protection against noise, and basalt bags for protection against scour, i.e. for coastal and bank protection as well as for protecting the foundations of offshore plants. The protectors are attached to the highly stressed parts of the wind turbine, where the ships drive against each other in order to allow the technicians to pass over to the turbine. The basalt bags prevent the foundation from being washed around by the ocean current. Using the perforated hose, a curtain of air bubbles (a so-called bubble curtain) is created under water, which reduces the spread of sound waves.
»
The Jaeger Basalt Bags serve as an alternative to todays common plastic Big Bags.
David Baum, Managing Director JMS
«
You were just talking about basalt bags used in the sea. What's so special about it?
David Baum:
We all know the problem of plastic in the sea. It's necessary to eliminate the entry of plastic into our seas. The Jaeger Basalt Bags serve as an alternative to today's common Big Bags made of plastic. Basalt is a rock of volcanic origin. It's melted at 1400 degrees and a thin thread is made from it. Different fabrics or ropes can be made from these threads. From this, bags which are filled with stones and serve as scour protection are sewn. In the last tests we achieved a weight of 3.5 tons per bag. We are currently working on a project for which we want to fill a bag with 10 tons of stone.
Their products contribute to the protection of marine fauna and ecology. What do you offer your customers?
David Baum:
Jaeger Mare Solutions provides resourcesaving and environmentally compatible solutions for the maritime sector. Offers aimed at offshore wind energy, the maritime industry and environmental and marine technology. However, we don't only offer the pure product as a one-off business, but together with partners we also offer the complete service around the product. For example, the protector must be attached to the system, the bubble curtain must be laid out and the basalt bag must be filled.
Keyword environmental technology: There are certainly connections to Jäger Umwelt-Technik?
David Baum:
Of course, we are grateful to be able to draw on the know-how of the entire Jäger Group, the engineering services of a complete product and process development department, our internal laboratory and various production facilities. At Jäger Umwelt-Technik we have the knowledge of over forty years of experience in ventilation technology. We will certainly co-operate with our colleagues especially in the development and testing of new products. This already happens with noise insulation products.
Where does Jaeger Mare Solutions currently see the greatest potential in the offshore market?
David Baum:
International: There are some big companies worldwide that are interesting for us, but many are located in Europe. One week I'll be in the Netherlands, the next week I'll be in Belgium and afterwards I'll go to a meeting in Denmark. In between, there are still a few dates in Germany. In addition, Taiwan and the USA are booming regions in which large wind farms are being built. It doesn't only have to be wind farms, but also projects in coastal and port protection. The application possibilities for our product ranges are far from exhausted at the moment.
»
Profit maximization goals alone will not make us successful - secure jobs, clean drinking water and healthy marine mammals, on the other hand, are in my view desirable goals of a company.
David Baum, Managing Director
«
In addition to achieving its economic goals, Jaeger Mare Solutions is particularly concerned about environmental and marine protection. What are you specifically doing for it?
David Baum:
I am convinced that our products will make a positive contribution to environmental protection. Our resources are limited and we need to consider how we can make sense of them. It's therefore our duty to question ourselves and our actions – so that future generations can also live safely. Profit maximization goals alone won't make us successful – safe jobs, clean drinking water and healthy marine mammals, on the other hand, are, in my view, desirable goals of a company. Specifically, we donated to two World Wildlife Fund projects: the WWF Climate Protection Program and the WWF Marine Protection Program. An issue that is very close to the heart of the Jäger Group in general and the Jäger family in particular.
Interested in more exciting offshore stories? Jaeger Mare Solutions already has an Instagram account: We would be pleased if you accompany us on our journey and follow us: instagram.com/jaeger_maresolutions