Hose Assem­blies
Hoses made of rub­ber, plas­tic and met­al con­nec­tions offer uni­ver­sal appli­ca­tion pos­si­bil­i­ties in all areas of indus­try. They are used for con­vey­ing and con­vey­ing liq­uid, gran­u­lar and gaseous media or for suc­tion and pres­sure trans­mis­sion. In addi­tion, pro­tec­tive hoses are used to shield cables or oth­er sen­si­tive lines from exter­nal influ­ences. The require­ments for hoses and hose lines of the JÄGER Group are cor­re­spond­ing­ly exten­sive. These should be flex­i­ble, elas­tic and abra­sion-resis­tant, but must also be pres­sure and vac­u­um sta­ble as well as mechan­i­cal­ly, ther­mal­ly and chem­i­cal­ly resilient. The fields of appli­ca­tion for hose lines extend to most dif­fer­ent indus­tri­al areas. They are used in the con­struc­tion and food indus­tries and in the chem­i­cal indus­try, as well as in agri­cul­ture, pump tech­nol­o­gy and pipeline con­struc­tion.
Assem­bled hose lines
Hoses and fit­tings are assem­bled by us into a func­tion­al and appli­ca­tion-spe­cif­ic com­plete line. We pro­cure all the nec­es­sary con­nect­ing and fit­ting parts, cut the hoses to the exact length and assem­ble them into ready-to-use sys­tems. Accord­ing to cus­tomer spec­i­fi­ca­tions, we can check and doc­u­ment the oper­at­ing pres­sure for each hose line indi­vid­u­al­ly.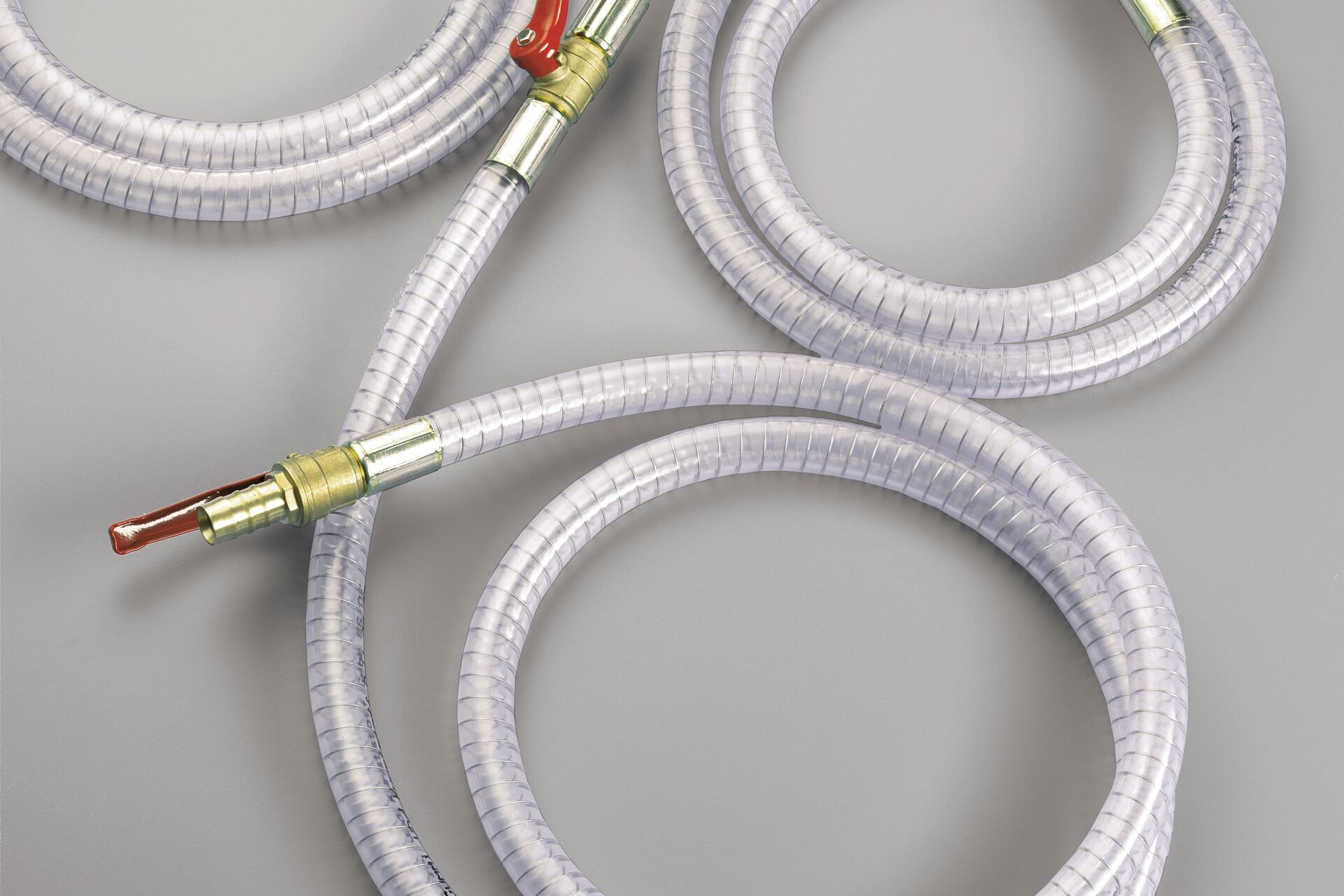 Our range of hoses and fit­tings extends from sim­ple water hoses to chem­i­cal hoses against aggres­sive media. Among oth­er things we sup­ply hose lines in the fol­low­ing designs:
Sand­blast­ing hoses
Food hoses
Hoses against abra­sive media
Met­al braid­ed ultra high pres­sure hoses
Heat­ed hoses for two-com­po­nent adhe­sives
Ster­ile tubes for the phar­ma­ceu­ti­cal indus­try
Heat pro­tec­tion hoses for elec­tri­cal and hydraulic lines
Hose lines for the rotor blade pro­duc­tion of wind pow­er plants
Hose lines with leak­age and drip-free cou­plings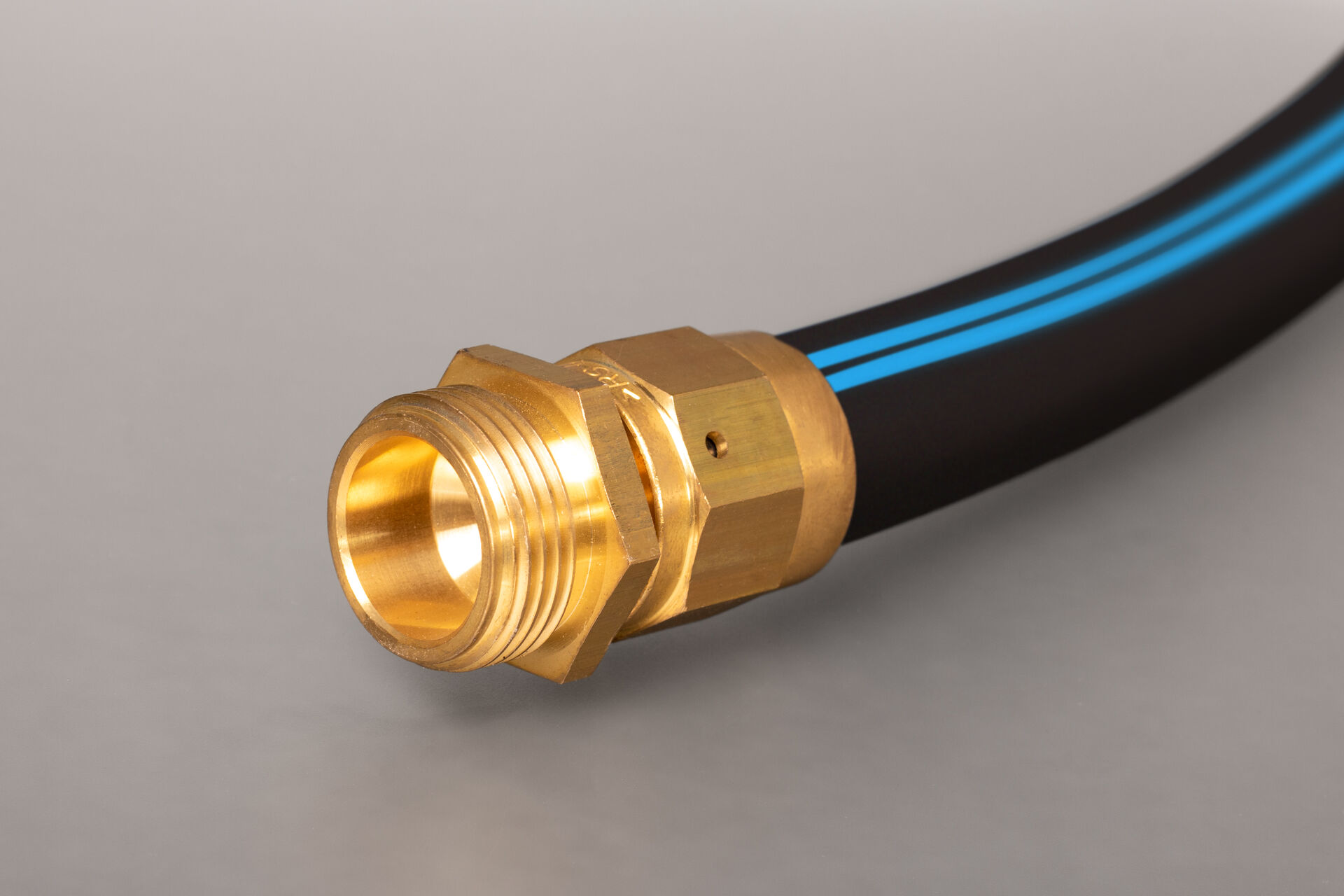 Ver­sa­tile hose con­nec­tors
Flex­i­ble hoses are only func­tion­al in com­bi­na­tion with the right fit­tings. We advise our cus­tomers on the indi­vid­ual com­po­si­tion of con­nect­ing ele­ments and fit­tings, flanges and shut-off ele­ments. Our ver­sa­tile range of fit­tings offers the right solu­tion for every appli­ca­tion and for every con­nec­tion.
PTFE hose lines
On our mod­ern pro­duc­tion facil­i­ties we man­u­fac­ture PTFE hose lines in var­i­ous designs. In addi­tion to smooth and cor­ru­gat­ed hose lines, we also offer our cus­tomers hose lines with a hose core drawn around the fit­ting (formed PTFE flanges for stan­dard seals). Spe­cial solu­tions for vac­u­um appli­ca­tions, con­duc­tive ver­sions and anti­sta­t­ic PTFE cores are part of our core range for med­ical tech­nol­o­gy, the food indus­try and the chem­i­cal indus­try.
We offer among oth­ers the fol­low­ing mate­ri­als in the field of hose lines:
Rub­ber
NR
SBR
NBR
EPDM
CR
Sil­i­cone
FKM