Our Com­pres­sion Pack­ing
Stuff­ing box pack­ings are regard­ed as reli­able and durable ele­ments of seal­ing tech­nol­o­gy. Since they pro­vide reli­able leak­age pro­tec­tion with high chem­i­cal and tem­per­a­ture resis­tance, stuff­ing box pack­ings are used in var­i­ous tech­ni­cal sys­tems. They are prefer­ably found in mechan­i­cal engi­neer­ing such as pump tech­nol­o­gy or valve tech­nol­o­gy, but also in the chem­i­cal or met­al­work­ing indus­try as well as in tool and mould mak­ing.
Stuff­ing box pack­ings are used to seal a rotat­ing or axi­al­ly mov­ing shaft against the effects of liq­uid or vapour pres­sures, as well as against pen­e­trat­ing dirt or escap­ing lubri­cant.
A stuff­ing box con­sists of the stuff­ing box pack­ing (the actu­al seal) and a stuff­ing box gland (a flange-like sleeve), with which the stuff­ing box pack­ing is pressed axi­al­ly by means of screws or springs.
With elas­tic seal­ing mate­r­i­al, the axi­al com­pres­sion also results in radi­al com­pres­sion of the stuff­ing box pack­ing on the shaft. Thus the seal­ing gap can be adjust­ed to a min­i­mum adapt­ed to the oper­at­ing con­di­tions. A small leak­age can­not be com­plete­ly exclud­ed, but is often desired.
Advan­tages of com­pres­sion pack­ing:
Uni­ver­sal­ly applic­a­ble

High mechan­i­cal strength
Low leak­age val­ues and reduc­tion of pos­si­ble cross-sec­tion­al dif­fu­sion

Ful­fils the TA air and blow-out guide­lines

Suit­able for use in the phar­ma­ceu­ti­cal and food indus­try (FDA and EU 1935/2004)

Can be stored for an unlim­it­ed time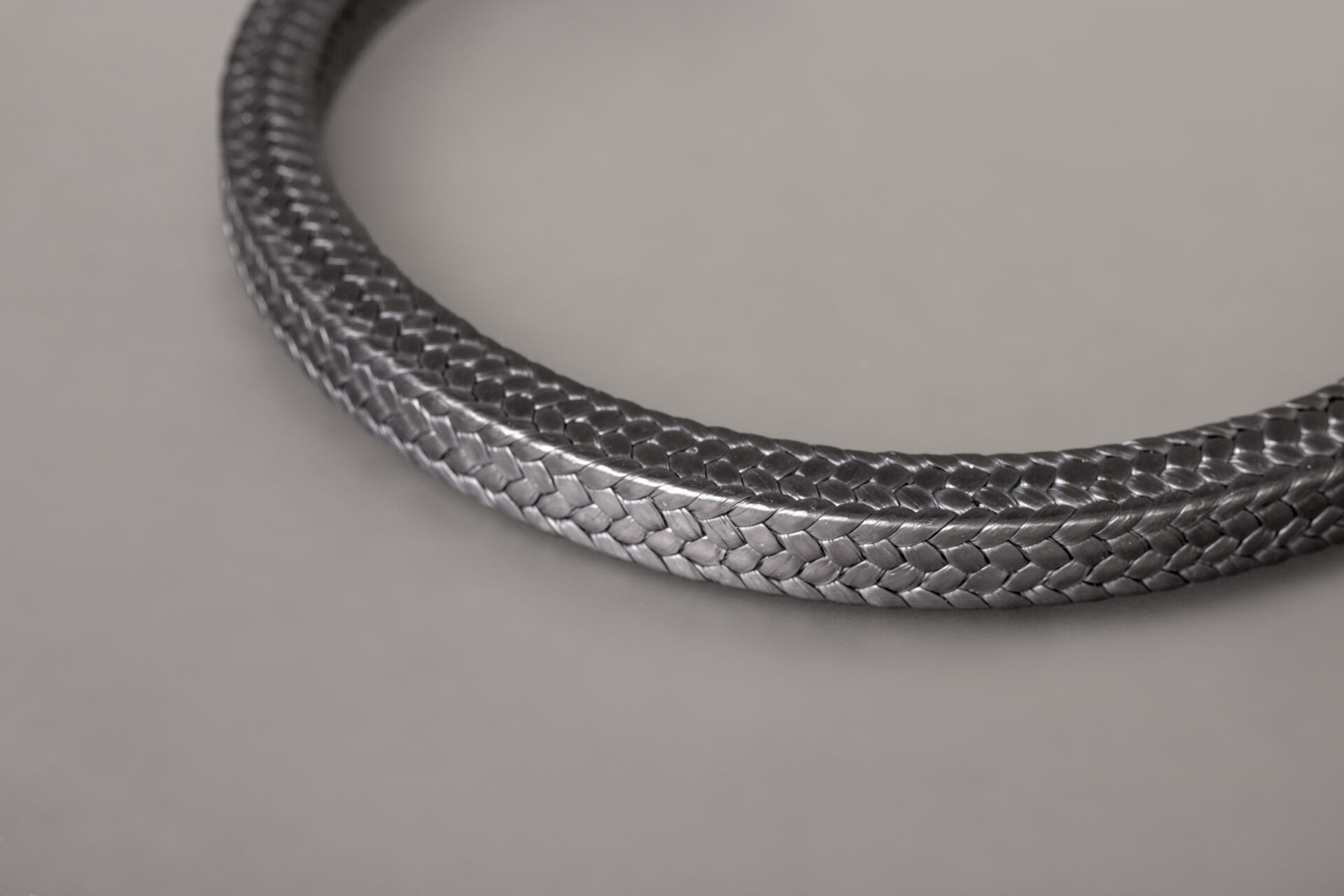 A spe­cial mate­r­i­al — expand­ed PTFE (ePTFE)
Our strate­gic part­ner TEADIT® uses a ther­mal expan­sion process fol­low­ing the sin­ter­ing of the stuff­ing box pack­ings to min­i­mize the creep behav­ior of PTFE typ­i­cal for the mate­r­i­al. This results in seal­ing ele­ments such as tapes or cords with monoax­i­al align­ment or flat gas­kets as well as plates with mul­ti­di­rec­tion­al struc­tures. A high chem­i­cal resis­tance as well as a very good com­press­ibil­i­ty char­ac­ter­ize ePTFE and pre­des­tine this mate­r­i­al for seal­ing plas­tic and steel joints as well as for enam­eled flange con­nec­tions. Fur­ther­more, they often replace plates with hol­low glass bead fillers.
Among oth­ers, we offer the fol­low­ing mate­ri­als in the field of seal­ing tech­nol­o­gy, espe­cial­ly for com­pres­sion pack­ings:
PTFE: pure PTFE yarns (chem­i­cal and ther­mal resis­tant). Addi­tion­al­ly also impreg­nat­ed or with incor­po­rat­ed graphite.
PTFE/Aramid: Com­bi­na­tion of PTFE (chem­i­cal­ly and ther­mal­ly resis­tant) and Aramid (pres­sure and extru­sion resis­tant).
Aramid: Aramid yarns made of sta­ple fibres for high pres­sures, large gaps or abra­sive media.
Carbon/graphite: expand­ed graphite tapes and pure car­bon fibre yarn.
Glass: treat­ed glass fibre yarns with graphite pow­der or PTFE (dis­per­sion).
Var­i­ous com­bi­na­tions: acrylic fibres, novoloids, ramie fibres, poly­imide yarns.