Rub­ber-Met­al Ele­ments
The com­bi­na­tion of the spe­cif­ic prop­er­ties of rub­ber and the known met­al prop­er­ties results in a very wide range of appli­ca­tions for con­struc­tion ele­ments made of rub­ber-met­al com­pounds. We encounter them in all branch­es of indus­try as clutch buffers, fric­tion wheels, bear­ing ele­ments, spring and damp­ing ele­ments, bush­ings, valve balls, pis­ton bod­ies, sta­tors, disc springs or also as shaft bear­ings. In par­tic­u­lar, machine feet and oth­er rub­ber buffers, which serve to damp oscil­la­tions and vibra­tions, are used in mechan­i­cal and appa­ra­tus engi­neer­ing as well as in mea­sur­ing instru­ment tech­nol­o­gy and pre­ci­sion mechan­ics. The JÄGER Group offers an exten­sive range of dif­fer­ent mate­ri­als and hard­ness­es in the field of rub­ber-met­al ele­ments both for stan­dard­ized and for com­po­nents designed accord­ing to cus­tomer spec­i­fi­ca­tions.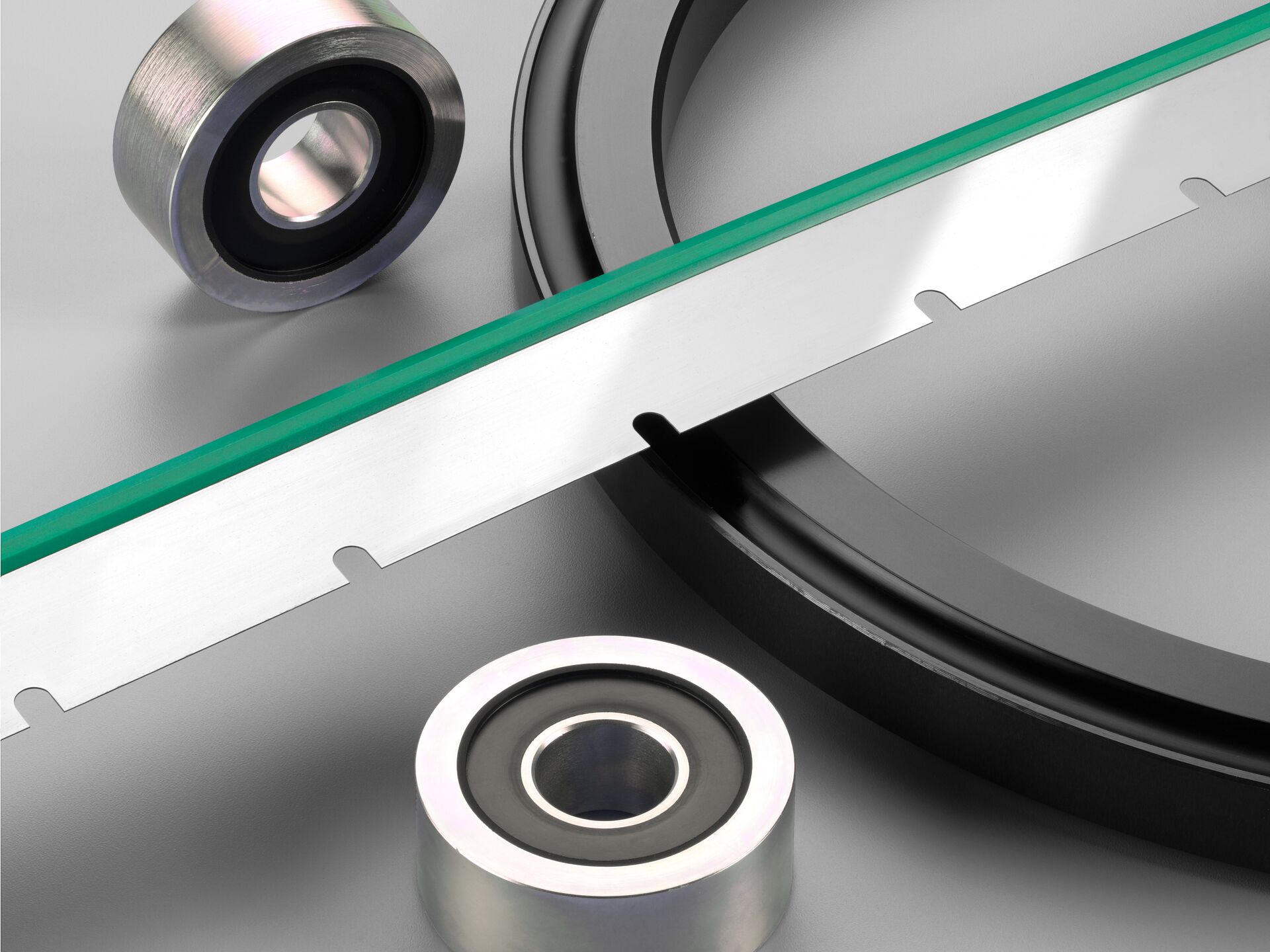 Sus­pen­sion ele­ments
Sus­pen­sion ele­ments man­u­fac­tured as mould­ed arti­cles with a firm­ly adher­ing con­nec­tion of rub­ber and met­al are used as com­po­nents for vibra­tion insu­la­tion, shock absorp­tion and noise damp­ing. While the actu­al spring body is made of rub­ber, the met­al is used for sta­bi­liza­tion and fas­ten­ing.
Com­pared to insu­la­tors made of oth­er mate­ri­als, mount­ing ele­ments made of rub­ber-met­al offer the advan­tage of damp­ing, damp­ing and spring­ing. They are main­te­nance-free as well as easy and quick to install. In addi­tion to an exten­sive range of stan­dard­ized bear­ing ele­ments which are kept in stock, we are your com­pe­tent part­ner for the devel­op­ment of spe­cial parts.
We sup­ply sus­pen­sion ele­ments in the fol­low­ing designs:
Silen­tium Dri­ve, the qui­et inno­va­tion in the com­bine har­vester

rub­ber-met­al buffer and ele­ments

tor­sion bush­ings

con­i­cal bear­ing ele­ments

machine feet as rub­ber-met­al con­nec­tion

hol­low springs

rub­ber-met­al rails

axi­al and radi­al bush­ings
Pre­dom­i­nant­ly nat­ur­al rub­ber (NR) is used for this pur­pose.
For spe­cial require­ments, how­ev­er, the use of alter­na­tive mate­ri­als is pos­si­ble and sen­si­ble.
For appli­ca­tions in the upper tem­per­a­ture range, for exam­ple, sil­i­cone is a suit­able mate­r­i­al.
Injec­tion mold­ed seal
In many tech­ni­cal sys­tems, the high­est demands are placed on the indi­vid­ual com­po­nents installed with regard to reli­able seal­ing. In addi­tion, the assem­bly process of indi­vid­ual com­po­nents is often dif­fi­cult, as con­ven­tion­al flat gas­kets or pro­file gas­kets can­not be installed due to the lack of space. For this rea­son, we offer the pos­si­bil­i­ty of vul­can­is­ing the seals direct­ly onto met­al lids or hous­ings using a tool in the injec­tion mould­ing process. Thus the gas­ket is direct­ly con­nect­ed to the met­al com­po­nent and offers the fol­low­ing advan­tages, espe­cial­ly com­pared to freely applied gas­kets:
pre­cise seal cross sec­tion
pro­filed seal­ing cross sec­tions with lips pos­si­ble
con­stant cross sec­tion over the entire seal length
no butt joint and there­fore bet­ter seal­ing
Con­nec­tions with­out adhe­sive appli­ca­tion pos­si­ble
Coat­ing for rollers
In roll coat­ing, met­al cores are coat­ed with a rub­ber lay­er, thus enabling a com­bi­na­tion of both mate­r­i­al prop­er­ties. Dur­ing pro­duc­tion, the unvul­can­ised rub­ber is either wound onto the met­al core or applied in a com­pres­sion or injec­tion mould to vul­can­ise it after­wards. The range is sup­ple­ment­ed by roll cov­er hoses, which are already vul­can­ized and then wound under pre­ten­sion onto the met­al core.
We also offer cov­ers made of already vul­can­ized rub­ber sheets, which are glued to the met­al core with spe­cial adhe­sive. In many cas­es, roller cov­ers are exposed to sev­er­al stress­es at the same time. This is why spe­cial expe­ri­ence is required to deter­mine the cov­er qual­i­ty, the design of the core and the sur­face qual­i­ty. We have decades of expe­ri­ence in this field.