Our Rub­ber-Plas­tic Ele­ments
In many areas of appli­ca­tion with exten­sive loads, com­po­nents made of a sin­gle mate­r­i­al quick­ly reach their lim­its. For this rea­son, we offer ele­ments made of sev­er­al, direct­ly con­nect­ed com­po­nents that com­bine the advan­tages of dif­fer­ent mate­ri­als. Chem­i­cal-phys­i­cal direct com­pos­ites between ther­mo­plas­tics and elas­tomers as well as TPE (ther­mo­plas­tic elas­tomers) are our core com­pe­tence.
Since the elas­tic com­po­nent is inject­ed direct­ly onto the sta­ble ther­mo­plas­tic body with­out pri­or prim­ing, the asso­ci­at­ed costs can be effec­tive­ly saved. In this way, appli­ca­tions in accor­dance with com­mon food and drink­ing water require­ments (FDA, BfR, etc.) can be guar­an­teed and demand­ing spec­i­fi­ca­tions of the elec­tri­cal indus­try can be ful­filled.
In addi­tion, addi­tion­al func­tions are inte­grat­ed into com­po­nents through mate­r­i­al com­bi­na­tions. Bend­able or fil­i­gree parts made of rub­ber become dimen­sion­al­ly sta­ble and can thus be mount­ed in a func­tion­al­ly reli­able man­ner. This leads to a reduc­tion in the scope of assem­bly as well as addi­tion­al rework­ing and low­ers qual­i­ty assur­ance costs. A cen­tral advan­tage of rub­ber-plas­tic com­pounds is that, unlike metal­lic mate­ri­als, they are not prone to cor­ro­sion. More­over, the total weight is reduced enor­mous­ly by sub­sti­tut­ing the met­als accord­ing­ly.
We offer var­i­ous mate­r­i­al com­bi­na­tions of plas­tics and elas­tomers in direct bond­ing. In addi­tion, an appli­ca­tion-relat­ed mate­r­i­al selec­tion enables func­tion- and cost-opti­mised solu­tions.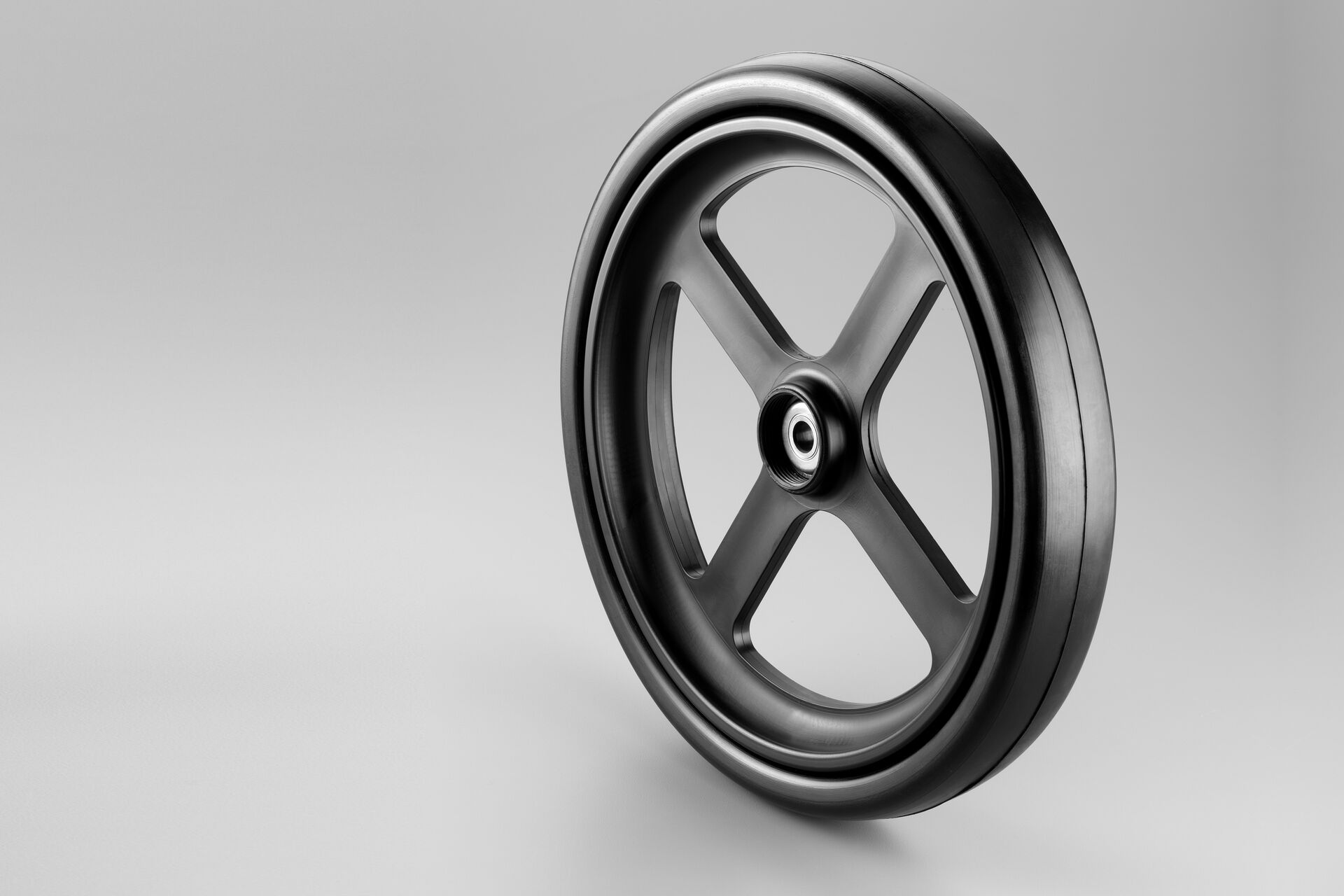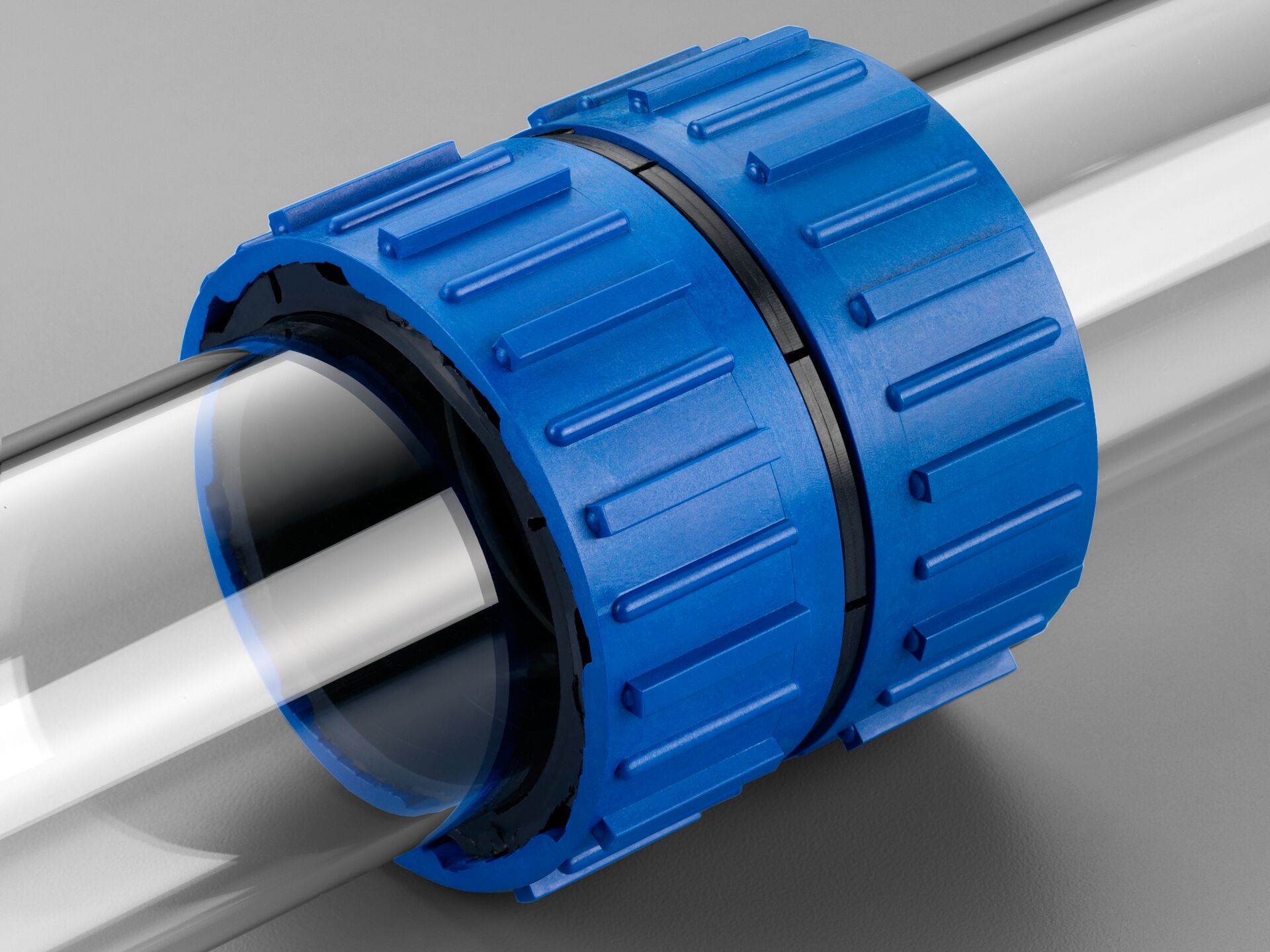 Pipe clamp made of rub­ber and plas­tic
Our mod­u­lar tube con­nec­tor sys­tem was devel­oped for con­nect­ing glass tubes in pho­to­biore­ac­tors. The require­ments for the rub­ber-plas­tic pipe clamp are exten­sive, because on the one hand the com­po­nent must resist the exist­ing pres­sure of the plant and on the oth­er hand it must guar­an­tee a reli­able tight­ness.
The sim­ple assem­bly and dis­as­sem­bly of the pipe clamp using a torque wrench also elim­i­nates the need for heavy pow­er tools. Fur­ther­more, the tight screw con­nec­tion of con­ven­tion­al met­al clamps often leads to glass break­age, which can be sig­nif­i­cant­ly reduced by using the Jäger clamp.
The use of the rub­ber-plas­tic pipe clamp in oth­er indus­tries or with pipes made of dif­fer­ent mate­ri­als (glass-plas­tic or met­al-plas­tic con­nec­tions) is pos­si­ble with­out any prob­lems. They are already used in solar water treat­ment plants or in the plas­tics indus­try for gran­u­late con­vey­ing.
Pres­sure roller for seed drills
Com­po­nents for the agri­cul­tur­al sec­tor are usu­al­ly exposed to var­i­ous envi­ron­men­tal influ­ences and strong phys­i­cal stress­es. They must be resis­tant and should remain ser­vice­able for as long a peri­od as pos­si­ble. Should indi­vid­ual com­po­nents fail, this can have seri­ous eco­nom­ic con­se­quences, as the peri­ods dur­ing which sow­ing and har­vest­ing can take place are lim­it­ed.
Above all, mate­r­i­al com­bi­na­tions of rub­ber and plas­tic allow reli­able and con­sis­tent use of the machines, as they pro­vide the nec­es­sary robust­ness despite their low weight and with­out the risk of cor­ro­sion.
Seed drills use pres­sure rollers to reg­u­late the depth of seed place­ment and for soil com­paction after the sow­ing process. Pre­vi­ous­ly drawn fur­rows are closed to pre­vent the seed from lying open in the field. For this pur­pose the press rollers must work per­ma­nent­ly with appro­pri­ate pres­sure and on dif­fer­ent types of sub­soils.
The JÄGER Group man­u­fac­tures assem­blies made of high-strength rub­ber and high­ly resis­tant plas­tic for this pur­pose in order to with­stand the exten­sive influ­ences such as abra­sion and spe­cif­ic force-dis­place­ment behav­iour. The pen­e­tra­tion of dirt into the pres­sure roller bear­ing is opti­mal­ly pre­vent­ed by a well thought-out con­struc­tion of lip seals and dust caps.
Prod­uct and process devel­op­ment