Flip 'N Seal Slide-Out Seal­ing Sys­tem®
Today's recre­ation­al vehi­cles offer a sig­nif­i­cant amount of fea­tures and ameni­ties as many con­sumers seek the out­door camp­ing expe­ri­ence but want the same com­fort as at home. One way in which a recre­ation­al vehi­cle can cre­ate more inte­ri­or space is the "slide-out sys­tem".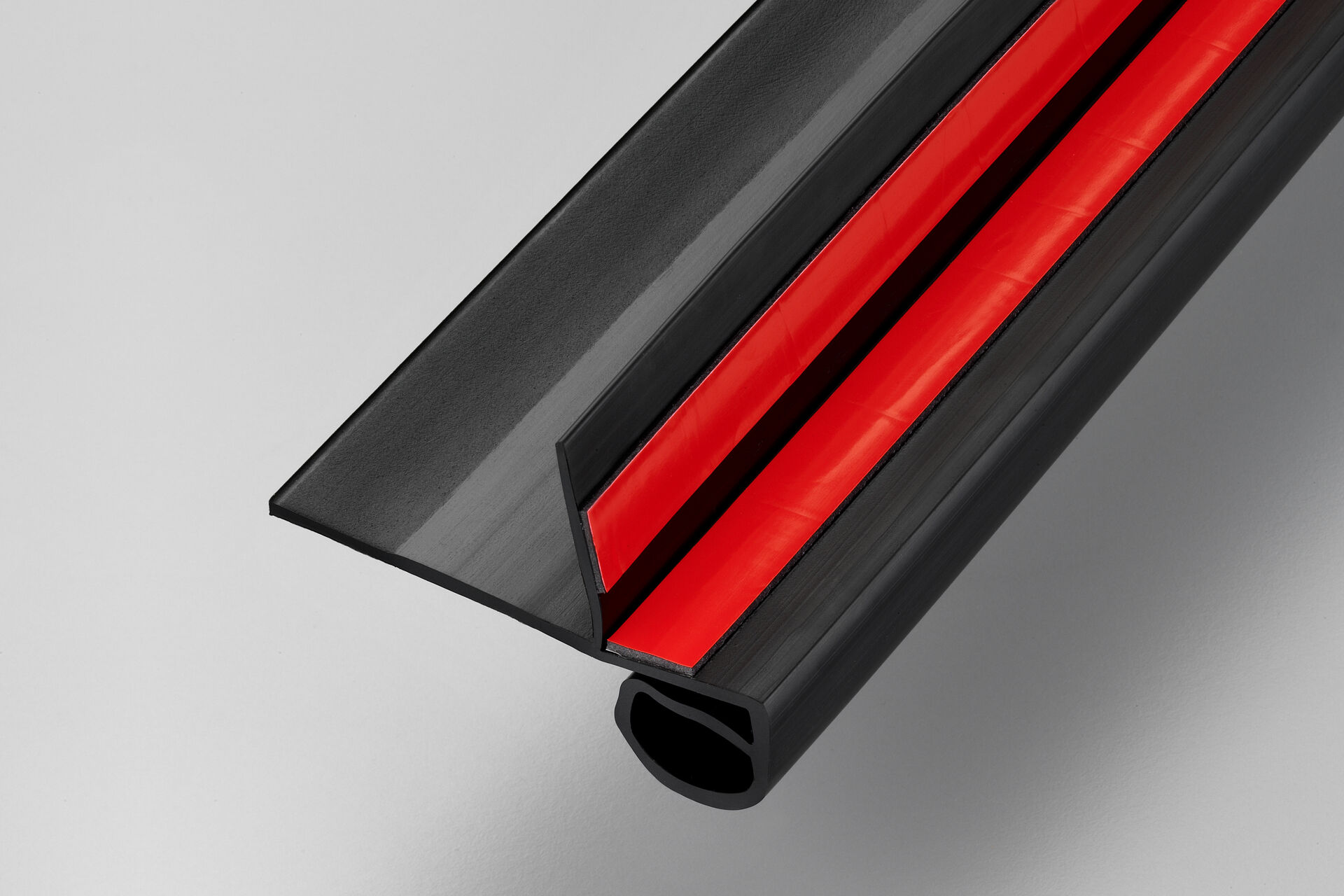 While the "Slide-Out Sys­tem" deliv­ers an out­stand­ing solu­tion to max­i­mize inte­ri­or RV space, pro­tect­ing the inte­ri­or space from the out­side ele­ments cre­ates a sig­nif­i­cant design engi­neer­ing chal­lenge. The seal­ing sys­tem plays a sig­nif­i­cant role in cre­at­ing a water­tight inte­ri­or, min­i­miz­ing tem­per­a­ture intru­sions while deliv­er­ing dura­bil­i­ty under dynam­ic and sta­t­ic load­ing con­di­tions over a wide range of tem­per­a­tures.
By work­ing close­ly with RV man­u­fac­tur­ers in rapid­ly expand­ing the use of Jaeger Unitek Seal­ing Solu­tions Patent­ed Flip 'N Seal Slide-Out Seal­ing Sys­tem®, togeth­er, we have met the com­plex appli­ca­tion demands with Slide-Out seal­ing require­ments. The results are a water­tight seal, a one-part seal­ing solu­tion vs. a two-piece design, low­er instal­la­tion costs dur­ing seal prepa­ra­tion and instal­la­tion, and the elim­i­na­tion of reduced war­ran­ty claims. For con­sumers, this trans­lates into the grow­ing use of RV slide-outs to cre­ate more inte­ri­or space, pro­tec­tion from the out­door ele­ments, sat­is­fac­tion and enjoy­ment in the great out­doors.
Poly­mer selec­tion
Under­stand­ing and select­ing the best engi­neered poly­mers to achieve mul­ti­ple func­tions with­in one extrud­ed com­po­nent are crit­i­cal to ensure long live and appli­ca­tion func­tion. The first poly­mer selec­tion is one designed to pro­vide a high mod­u­lus (stiff­ness), com­bined with elon­ga­tion char­ac­ter­is­tics to deliv­er sta­bil­i­ty and dura­bil­i­ty of the seal­ing sys­tem.
The sec­ond poly­mer is for­mu­lat­ed to achieve a low durom­e­ter to pro­vide out­stand­ing seal­ing prop­er­ties by deliv­er­ing the abil­i­ty to with­stand the demands of slide-out room cycling in over wide tem­per­a­ture con­di­tions. The com­bi­na­tion of select­ing two high per­for­mance poly­mers pro­vides RV engi­neers with the same poly­mer­ic seal­ing tech­nol­o­gy uti­lized by the most advanced glob­al auto­mo­tive com­pa­nies.
The advan­tages of Flip 'N Seal® include:
Excel­lent adhe­sion to sur­faces of recre­ation­al vehi­cles for a secure seal against mechan­i­cal fas­ten­ing meth­ods

resis­tance to repeat­ed extrac­tion at tem­per­a­tures from ‑40°C to +90°C

UV and weath­er­ing resis­tance for water­proof seal­ing per­for­mance

The use of a vis­coelas­tic foam copes with demand­ing loads and at the same time offers the elas­tic­i­ty to func­tion­al­ly seal if the indi­vid­ual com­po­nents have dif­fer­ent coef­fi­cients of ther­mal expan­sion dur­ing tem­per­a­ture changes

Design free­dom to take into account the sig­nif­i­cant vari­a­tions in pull-out geome­tries and dimen­sions of leisure vehi­cles

damp­ing char­ac­ter­is­tics which cause an inter­rup­tion of the vibra­tional forces while dri­ving and thus min­i­mize the ener­gy trans­fer to oth­er parts of the recre­ation­al vehi­cle

Heat acti­vat­ed bond between the inner foam and the poly­mer­ic sur­face of Flip 'N Seal® form­ing a high strength seal­ing bar­ri­er
Flip 'N Seal® in use as:
Strip­per seals for the side walls of the pull-out unit
Dou­ble wiper seals for the side walls of the exten­sion unit
Pan gas­ket for the col­lect­ing trays of motorhomes
Mate­ri­als
We use ther­mo­plas­tic elas­tomers with and with­out pres­sure and strength car­ri­ers — as fol­lows:
TPE (ther­mo­plas­tic elas­tomers)
TPV (ther­mo­plas­tic vul­can­izates)
TPO (ther­mo­plas­tic elas­tomers on olefin basis)