Plastic Hoses
Plastic hoses are used as flexible connections in various industrial machines. They are primarily used to transport fluids, granulates and powders, but also to protect the conveyed medium from environmental influences. In contrast to rubber hoses, plastic hoses can be manufactured in any color or even transparent. This guarantees a clear view of the conveyed medium. In addition to the material-specific properties of plastic, (textile) inserts as well as plastic spirals or metal spirals can be incorporated into the hoses. Plastic hoses are used, for example, in mechanical engineering, the construction industry or in wind energy, but are also found in the chemical industry and in agricultural engineering.
Heat shrinkable tubing
Shrink sleeves are used to sheathe sensitive components and thus protect them from environmental influences or various media. They are expanded during the production process directly during extrusion and only cooled down afterwards. As soon as the shrink hose is exposed to heat, it contracts back to its original size and thus reliably encloses the sheathed components. The so-called shrinkage rate (2:1; 3:1; etc.) indicates the ratio of the inner diameter before and after shrinking. Especially PVC tubing or also PTFE tubing is used in the electrical industry to protect cables or other conductors.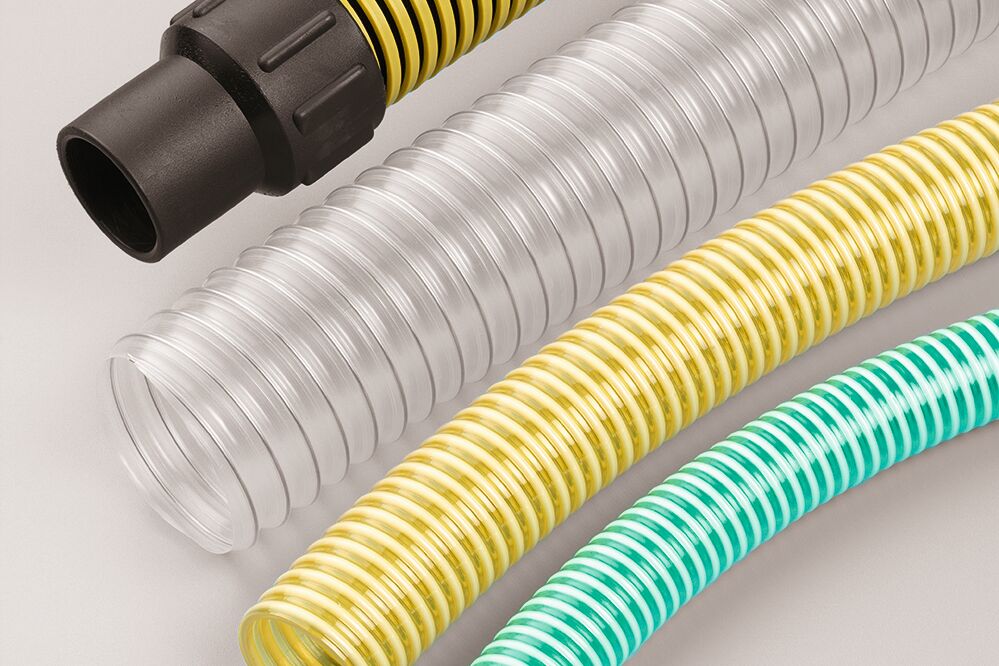 The choice of materials
Plastic hoses are made of different types of plastic and accordingly have different properties. Above all, the chemical resistance of the materials as well as their temperature resistance and physical properties are the main focus. However, plastics also differ considerably from an economic point of view, which is why the required conditions should be tailored exactly to the respective application. We advise you from the ground up and find the right hose for every application.
We supply plastic hoses
in the following versions:
shrink tubing
hoses for line protection
cable protection conduits
suction hoses
food hoses
suction and pressure hoses
We offer the following materials in the field of plastic hoses: