Plas­tic Hoses
Plas­tic hoses are used as flex­i­ble con­nec­tions in var­i­ous indus­tri­al machines. They are pri­mar­i­ly used to trans­port flu­ids, gran­u­lates and pow­ders, but also to pro­tect the con­veyed medi­um from envi­ron­men­tal influ­ences. In con­trast to rub­ber hoses, plas­tic hoses can be man­u­fac­tured in any col­or or even trans­par­ent. This guar­an­tees a clear view of the con­veyed medi­um. In addi­tion to the mate­r­i­al-spe­cif­ic prop­er­ties of plas­tic, (tex­tile) inserts as well as plas­tic spi­rals or met­al spi­rals can be incor­po­rat­ed into the hoses. Plas­tic hoses are used, for exam­ple, in mechan­i­cal engi­neer­ing, the con­struc­tion indus­try or in wind ener­gy, but are also found in the chem­i­cal indus­try and in agri­cul­tur­al engi­neer­ing.
Heat shrink­able tub­ing
Shrink sleeves are used to sheathe sen­si­tive com­po­nents and thus pro­tect them from envi­ron­men­tal influ­ences or var­i­ous media. They are expand­ed dur­ing the pro­duc­tion process direct­ly dur­ing extru­sion and only cooled down after­wards. As soon as the shrink hose is exposed to heat, it con­tracts back to its orig­i­nal size and thus reli­ably enclos­es the sheathed com­po­nents. The so-called shrink­age rate (2:1; 3:1; etc.) indi­cates the ratio of the inner diam­e­ter before and after shrink­ing. Espe­cial­ly PVC tub­ing or also PTFE tub­ing is used in the elec­tri­cal indus­try to pro­tect cables or oth­er con­duc­tors.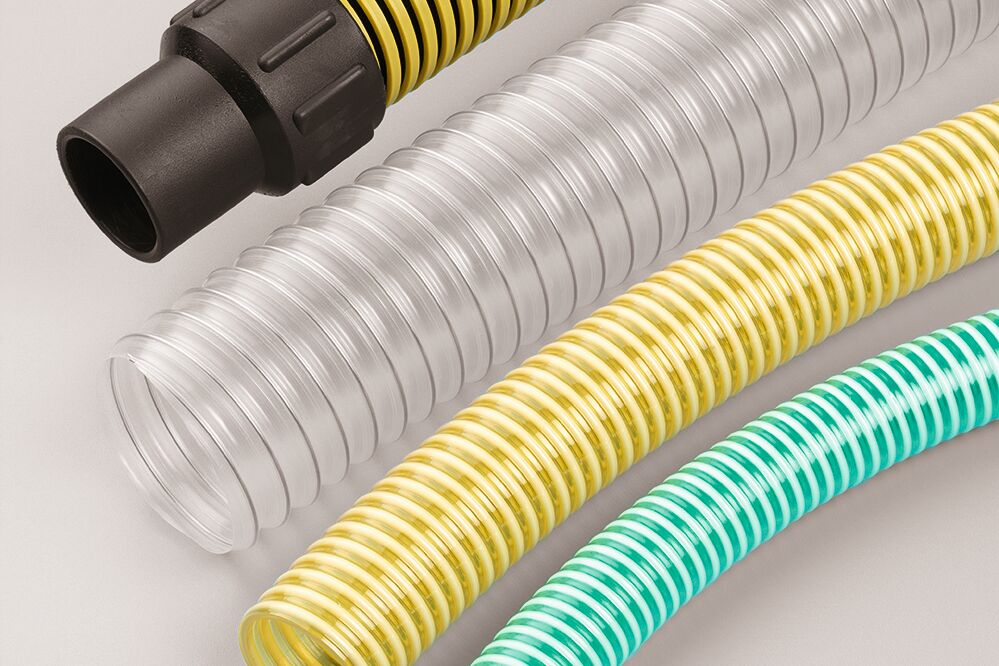 The choice of mate­ri­als
Plas­tic hoses are made of dif­fer­ent types of plas­tic and accord­ing­ly have dif­fer­ent prop­er­ties. Above all, the chem­i­cal resis­tance of the mate­ri­als as well as their tem­per­a­ture resis­tance and phys­i­cal prop­er­ties are the main focus. How­ev­er, plas­tics also dif­fer con­sid­er­ably from an eco­nom­ic point of view, which is why the required con­di­tions should be tai­lored exact­ly to the respec­tive appli­ca­tion. We advise you from the ground up and find the right hose for every appli­ca­tion.
We sup­ply plas­tic hoses
in the fol­low­ing ver­sions:
shrink tub­ing
hoses for line pro­tec­tion
cable pro­tec­tion con­duits
suc­tion hoses
food hoses
suc­tion and pres­sure hoses
We offer the fol­low­ing mate­ri­als in the field of plas­tic hoses: