Pro­tec­tive Plugs and Pro­tec­tive Caps
Plas­tic pro­tec­tive plugs and caps are used to seal and secure sen­si­tive and crit­i­cal con­nect­ing parts and end pieces. Met­al com­po­nents are usu­al­ly gal­va­nized or paint­ed to pro­tect against cor­ro­sion. By attach­ing pro­tec­tive caps, these com­po­nents are pro­tect­ed from scratch­es or oth­er dam­age.
Pro­tec­tive plugs are used to cov­er open­ings and bores or as dust pro­tec­tion for sen­si­tive com­po­nents. Both prod­ucts can be man­u­fac­tured in var­i­ous plas­tics as well as in dif­fer­ent col­ors. Due to their sim­ple but at the same time indis­pens­able func­tion, they are used in the entire machine and plant con­struc­tion as well as in the hydraulic indus­try.
Dif­fer­ent vari­ants
Due to count­less pos­si­ble appli­ca­tions, pro­tec­tive caps and plugs must have the most diverse geome­tries. A ver­sion with­out thread is suit­able for pro­tect­ing pro­trud­ing com­po­nents (screw heads or nuts), as these can be fit­ted com­par­a­tive­ly eas­i­ly and removed again if nec­es­sary. Plugs with­out threads can be used for per­ma­nent use in drill holes or oth­er open­ings, but are dif­fi­cult to remove again. Screw plugs or seal­ing screws are suit­able here. These are screwed or unscrewed direct­ly into or out of the intend­ed open­ing and thus allow easy removal. A fur­ther pos­si­bil­i­ty is pro­vid­ed by so-called strap plugs, which are fas­tened for quick assem­bly by sim­ply press­ing on them, but can be removed just as eas­i­ly through the exist­ing strap.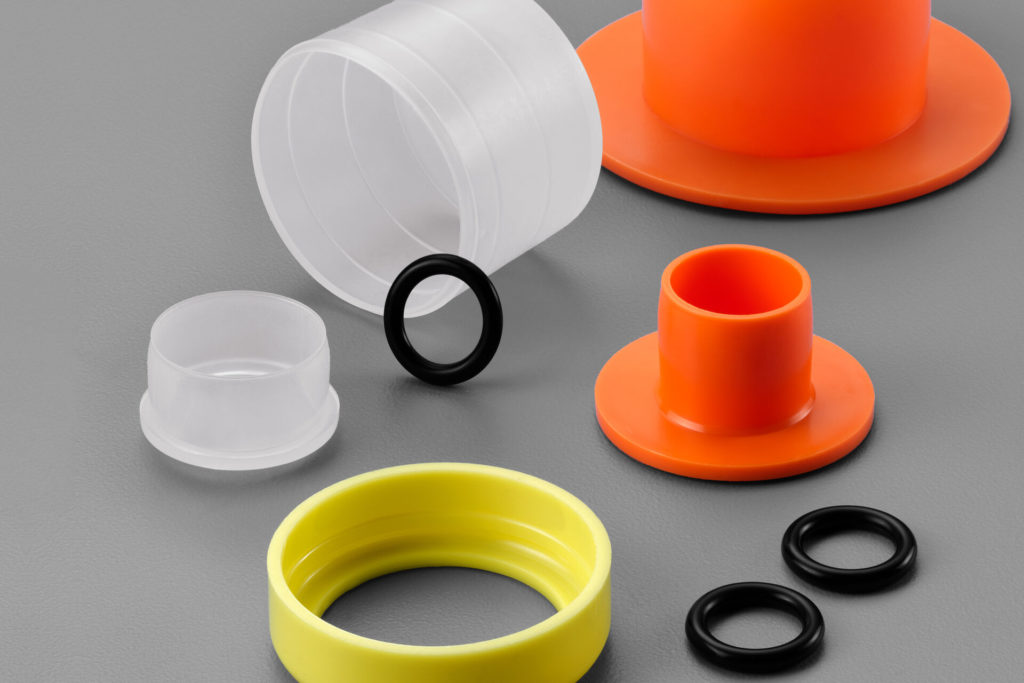 We sup­ply pro­tec­tive plugs and pro­tec­tive caps in the fol­low­ing designs:
valve pro­tec­tion caps
thread pro­tec­tion caps and seal­ing screws
pro­tec­tive caps for screws and nuts
tab stop­per
screw caps includ­ing seals
dip­ping caps
We offer among oth­ers the fol­low­ing mate­ri­als in the field of pro­tec­tive plugs and pro­tec­tive caps:
Rub­ber:
NR
SBR
NBR
HNBR
EPDM
CR
Sil­i­cone
Plas­tic: