Foams
Foams are mate­ri­als with a porous struc­ture and the asso­ci­at­ed low den­si­ty of rub­ber or plas­tic. The low spe­cif­ic weight and good com­press­ibil­i­ty open up a wide range of appli­ca­tions for foams.
Porous mate­ri­als such as sil­i­cone foam, cel­lu­lar rub­ber, sponge rub­ber as well as foam rub­ber offer a resis­tant sup­ple­ment to sol­id mate­ri­als and are excel­lent for insu­lat­ing or seal­ing. For this rea­son, foams are wide­ly used in vehi­cle con­struc­tion, mechan­i­cal and plant engi­neer­ing, med­ical tech­nol­o­gy, ener­gy tech­nol­o­gy, the elec­tri­cal indus­try, com­mu­ni­ca­tions and agri­cul­tur­al tech­nol­o­gy.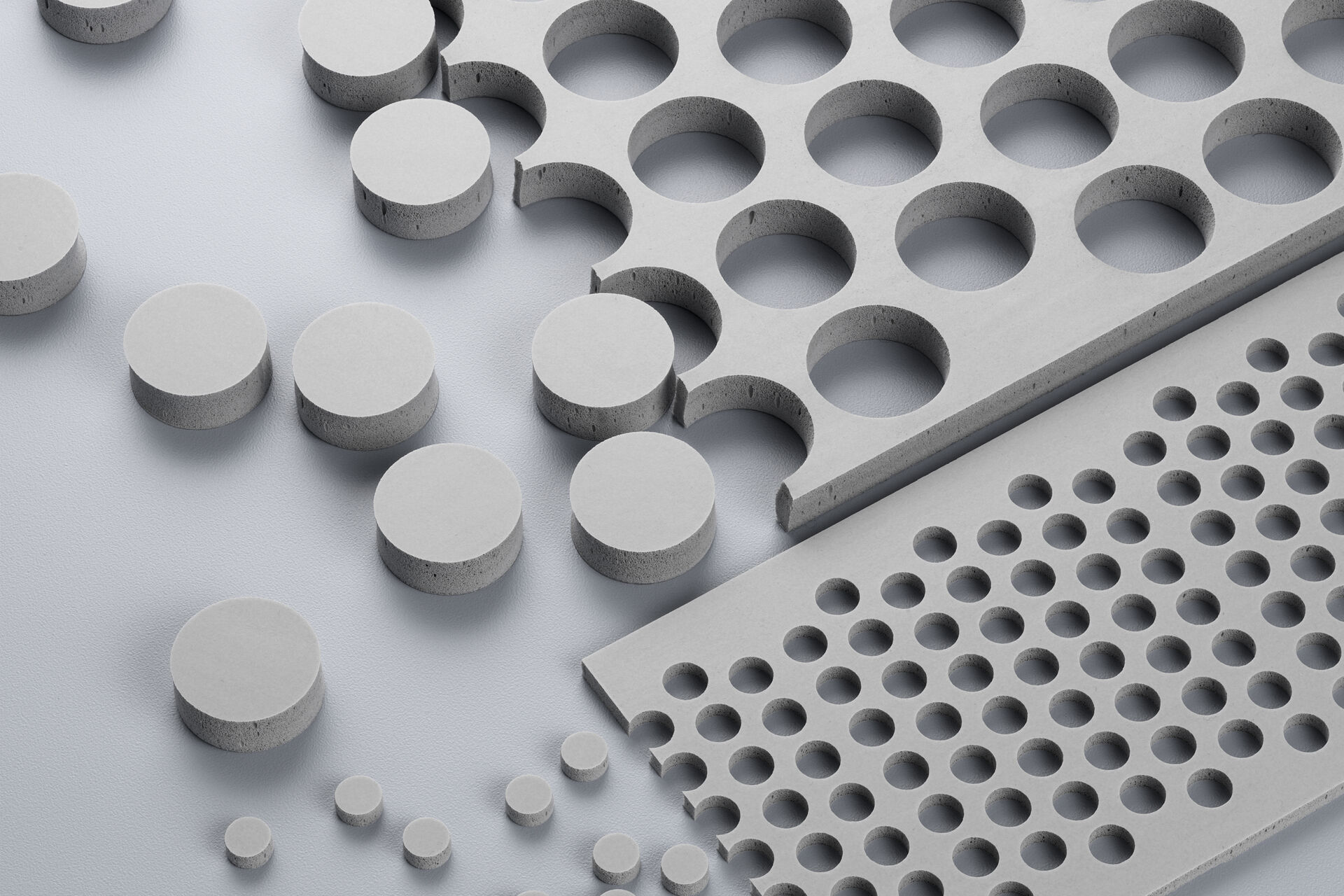 Pro­duc­tion
Foams are pro­duced with or with­out pres­sure, depend­ing on the process. Foam­ing is achieved by mechan­i­cal or phys­i­cal pro­cess­ing or by a chem­i­cal reac­tion using blow­ing agents. The select­ed process and the raw mate­r­i­al com­po­si­tion of the mate­ri­als have a deci­sive influ­ence on the achiev­able den­si­ty of the foams, as they have an open, closed or mixed cell struc­ture after pro­duc­tion. The pro­cess­ing can be done by extru­sion or injec­tion mold­ing. Pre­fab­ri­cat­ed sheet prod­ucts are often die-cut.
Com­mon to all foams is the low weight, due to the low den­si­ty. Para­me­ters such as restor­ing force, com­pres­sion set (DVR), water absorp­tion capac­i­ty, acoustic decou­pling, shock absorp­tion, damp­ing and insu­la­tion capac­i­ty some­times dif­fer great­ly.
Com­pres­sion behav­ior
Usu­al­ly, rub­ber com­po­nents are incom­press­ible in a firm­ly installed state if there is no room for them to escape when force is applied. An excep­tion, how­ev­er, is in the form of foamed elas­tomers.
Due to the cel­lu­lar struc­ture of the mate­r­i­al, the space required for dis­place­ment with­in the pore struc­ture itself is pro­vid­ed, allow­ing com­pres­sion even in ful­ly filled spaces. This prop­er­ty pre­des­tines foams for seal­ing and insu­la­tion appli­ca­tions where no oth­er mate­r­i­al can offer an alter­na­tive.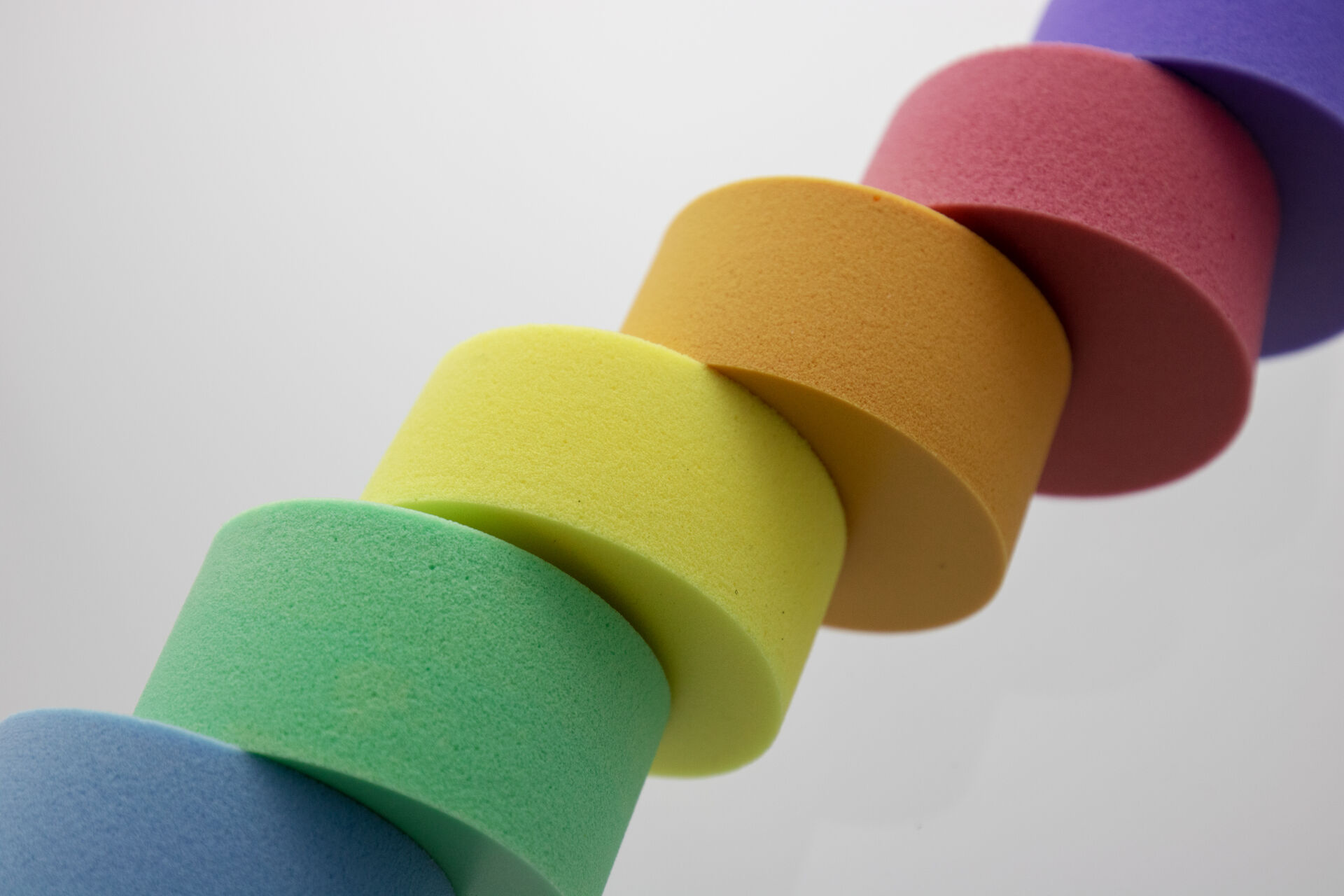 Among oth­ers, we offer the fol­low­ing mate­ri­als in the field of foams:
foam rub­ber (EPDM, NR, NBR, CR)
cel­lu­lar rub­ber (EPDM, NR, NBR, CR)
sponge rub­ber (NR)
sil­i­cone foam
polyurethane foam