Free­hand Prod­ucts
Free­hand rub­ber arti­cles are all parts that are hand­made from inter­me­di­ate prod­ucts by grind­ing, saw­ing, turn­ing, milling and drilling. Accord­ing­ly, no met­al molds are used for this man­u­fac­tur­ing process to rep­re­sent the required dimen­sions and geome­tries. We envis­age free­hand rub­ber arti­cles when the cost­ly pro­duc­tion of molds is not prof­itable or when a spe­cial mold­ing is required for test parts or small quan­ti­ties. Free­hand arti­cles are also pro­duced in series as rub­ber elbows, hose rings and turned parts.
The pro­cess­ing of plates, blocks, tubes, hoses and sol­id rods is done by hand using mechan­i­cal aids. Sophis­ti­cat­ed pro­duc­tion tech­niques and qual­i­fied per­son­nel guar­an­tee high qual­i­ty and con­stant dimen­sion­al accu­ra­cy. Due to their exten­sive design pos­si­bil­i­ties, free­hand arti­cles can be used in the most diverse areas. These include gen­er­al mechan­i­cal and plant engi­neer­ing, pump tech­nol­o­gy or agri­cul­tur­al tech­nol­o­gy.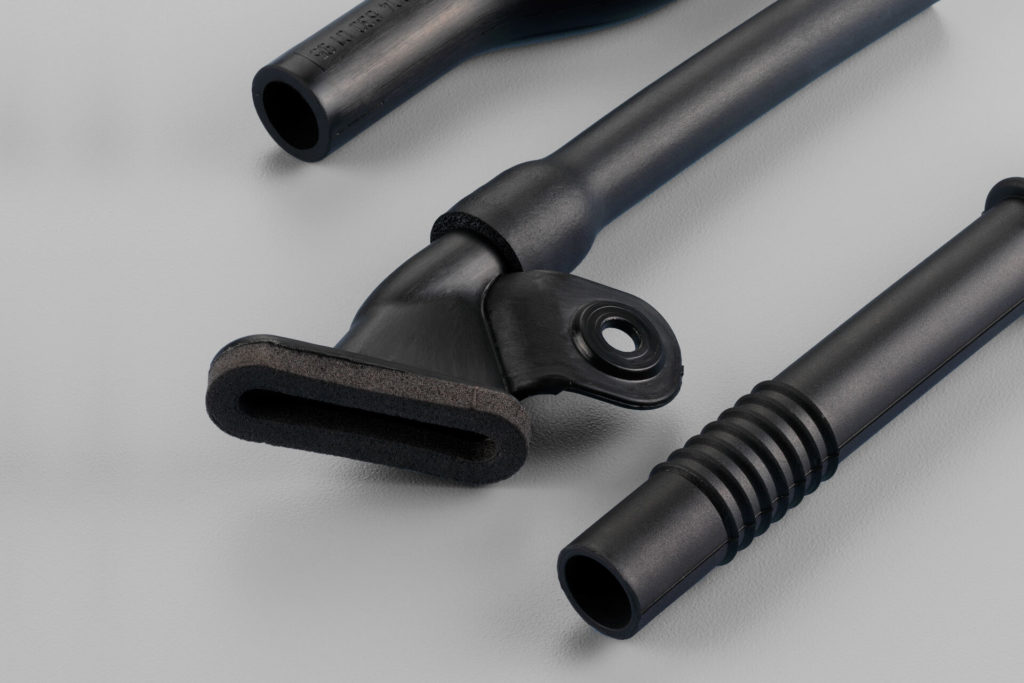 Rub­ber bends
Bends made of rub­ber are used in sys­tems where the direc­tion­al flow of gas­es or liq­uids is to be divert­ed. When choos­ing the right mate­r­i­al, rub­ber offers the advan­tage over met­al man­i­folds that it can also be used to trans­port cor­ro­sive flu­ids. In addi­tion, a cer­tain degree of flex­i­bil­i­ty can be guar­an­teed with reli­able dimen­sion­al sta­bil­i­ty.
We offer, among oth­ers, the fol­low­ing mate­ri­als in the field of free­hand arti­cles:.
NR
SBR
IR
BR
NBR
HNBR
EPDM
EPM
CR
ECO
ACM
FKM
Sil­i­cone
Prod­uct and process devel­op­ment