O‑Rings
O‑rings are used in all sys­tems as reli­able ele­ments of seal­ing tech­nol­o­gy. These are end­less rings with a round cross sec­tion which are man­u­fac­tured as mold­ed parts from rub­ber (part­ly also from plas­tic). The pos­si­bil­i­ty of axi­al or also radi­al seal­ing of dif­fer­ent flu­ids (gas­es and liq­uids) dis­tin­guish­es the sim­ple and robust com­po­nents.
Here, the JÄGER Group has a wide range of dif­fer­ent mate­ri­als and dimen­sions at its dis­pos­al so that the cor­rect para­me­ters are avail­able for every appli­ca­tion. With the cor­rect groove design and mate­r­i­al selec­tion, a seal can be used for a long peri­od of time, both sta­tion­ary and mov­ing, with­in the tem­per­a­ture lim­its of the mate­r­i­al. The advan­tage of O‑rings is that they are easy to install and require lit­tle instal­la­tion space.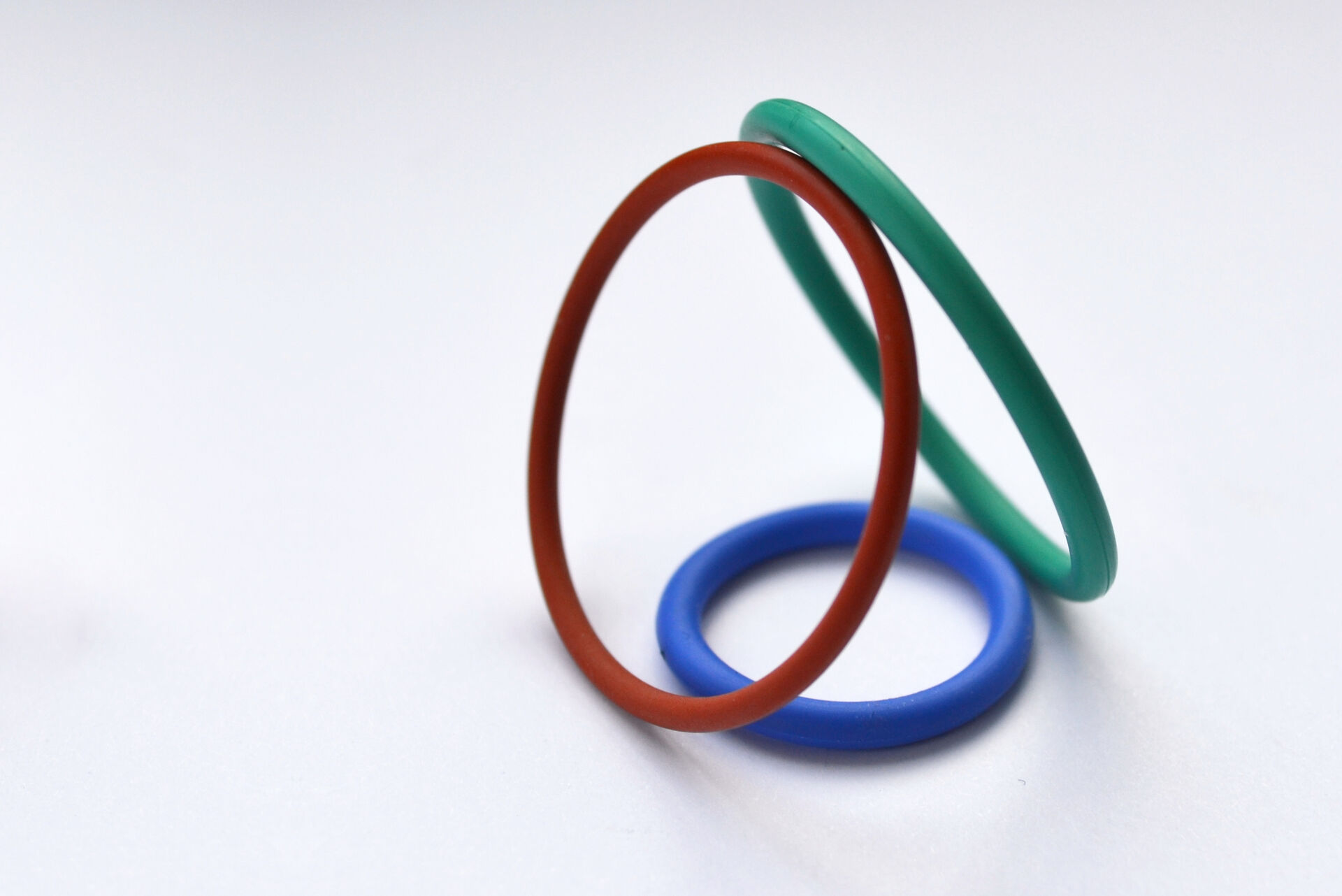 O‑rings made of EPDM and NBR
As with all tech­ni­cal prod­ucts, there is no uni­ver­sal solu­tion for O‑rings for all appli­ca­tions. The mate­r­i­al as well as the dimen­sions and assem­bly of the O‑rings must be adapt­ed to the respec­tive over­all sys­tem and the giv­en influ­ences. If an assem­bly is exposed to exter­nal weath­er con­di­tions, the mate­r­i­al EPDM (eth­yl­ene propy­lene diene rub­ber) has become estab­lished.
Since EPDM is high­ly resis­tant to ozone and age­ing and also has good resis­tance to cold tem­per­a­tures, the mate­r­i­al is pre­des­tined for such areas. How­ev­er, EPDM has no resis­tance to min­er­al oil-based media and swells strong­ly under their influ­ence. In this case, NBR (acry­loni­trile-buta­di­ene rub­ber) is the ide­al choice, as this rub­ber is high­ly resis­tant to greas­es and oils based on min­er­al oil.
We sup­ply O‑rings in the fol­low­ing designs:
Shore hard­ness from 40 to >90 ± 5 Shore A
Black or col­ored
with or with­out coat­ing, e.g. sil­i­coniz­ing, PTFE-coat­ing, graphi­tiz­ing, moly­coat­ing, tal­cumiz­ing, paint­ing
In addi­tion, we offer a wide range of sta­t­ic seals, rotary seals, hydraulic seals, wipers, guide ele­ments and retain­ing rings.
We offer among oth­ers the fol­low­ing mate­ri­als in the field of O‑rings:
NBR
HNBR
EPDM
CR
Sil­i­cone
FKM
FFKM
PTFE
PU