Power Transmission
The field of drive technology includes all elements for the transmission of power and motion between different shafts. This transmission enables, for example, an effective speed conversion, the control of motion sequences in industrial production facilities or the general transport of goods. The JÄGER Group offers a wide range of products, especially for the area of belts and tapes made of rubber, plastic and various material combinations. In contrast to chain drives, which have a high degree of efficiency but do not allow any twisting within the system, belts and bands offer a significantly lower noise development with low maintenance. For these reasons, they are used in mechanical and plant engineering, the packaging industry as well as in the equipment and agricultural machinery industry, among others.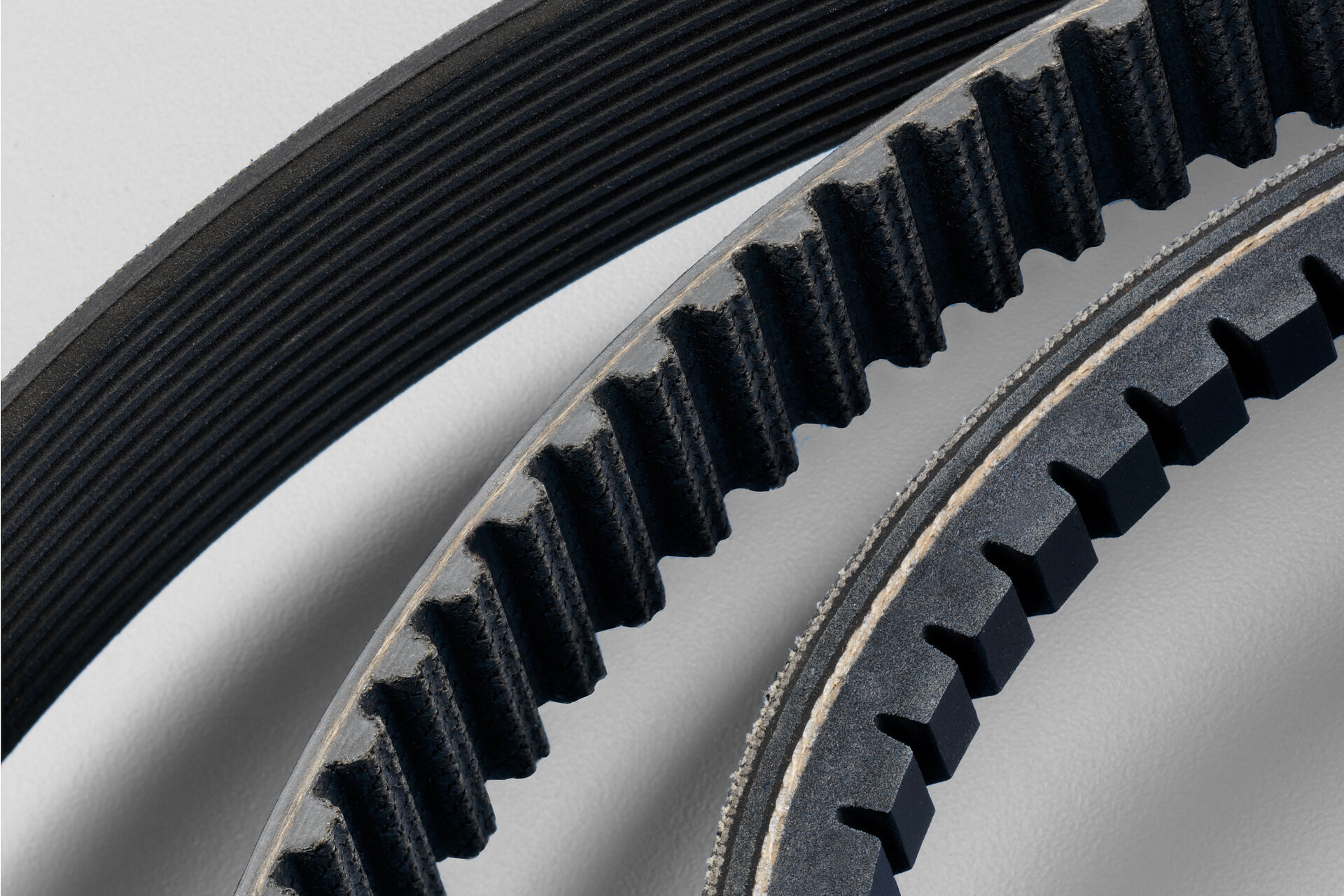 Non-positive drive elements
If the energy in a technical system is transmitted by the frictional forces generated between belts and driving wheels, this is referred to as non-positive drive elements. These are used wherever no synchronous movement of the elements is required and the drive may or should have slip. For this area we offer, among others, V-belts, V-ribbed belts and flat belts.
flat belts have a rectangular cross section and, like all non-positive drive elements, transmit energy exclusively via frictional forces. The contact surfaces of the associated drive wheels usually have upwardly curved or raised edges to prevent the belts from slipping off the pulley.
V-belts are characterized by their easy installation and long service life and allow a high transmission ratio. They are available with sheathed or open-flank design and offer higher transmittable power than flat belts.
V-ribbed belts have individual ribs which run lengthwise to the belt itself. The larger contact surface on the V-belt pulley results in greater friction and thus a higher power transmission than with ordinary V-belts. They are very well suited for the simultaneous drive of auxiliary units.
Positive drive elements
If the energy in a technical system is transmitted by belts and associated drive wheels with form-fit profiles, these are called form-fit drive elements. These are used when the drive requires a synchronous movement which must have no slip. In this case, power is not transmitted via frictional forces, but by the normal force occurring between the belt tooth and toothed pulley. These include toothed belts and flat belts.
Toothed belts and flat belts made of rubber or PUR allow a low-noise transmission of high torques with low space requirements and weight. Due to their positioning accuracy, these belts are also particularly suitable as finite elements for linear drives. In addition, timing belts can effectively perform control tasks between different elements of a system.
We supply elements from the drive technology in the following designs:
V-belts
Power belts
Ribbed ligaments
Toothed belt
Round and flat belts
Special belts for special applications
V-belt and toothed belt pulleys
V-ribbed washers
stepped discs
Chipboard
bearing elements
Among other things, we offer the following materials and standards in the field of drive technology:
CR
EPDM
NR
NBR
SBR
HNBR
PUR incl. fabric inserts of PE, PA, carbon, aramid, steel or elastic tension members
DIN 2215
DIN 2211
DIN 7753
DIN 2217