Punched parts & blanks
Stamped parts and blanks made of rub­ber (also of plas­tic or com­pos­ite mate­ri­als) are used in all indus­tri­al plants and machines. Among oth­er things, they serve as seals, sup­ports, wipers and dirt traps and are usu­al­ly pro­duced by machin­ing semi-fin­ished prod­ucts. In par­tic­u­lar, rub­ber flat seals, which are man­u­fac­tured, for exam­ple, on punch­ing machines, water jet cut­ting machines or plot­ters, offer exten­sive appli­ca­tion pos­si­bil­i­ties. They are intend­ed to com­pen­sate for gaps that occur on sur­faces that come into con­tact with each oth­er and pro­vide a secure seal against media from inside and out­side.
The start­ing mate­ri­als are main­ly sheets of var­i­ous most­ly elas­tic mate­ri­als with and with­out inlays or mats with sur­face design. In addi­tion to the stan­dard designs with grooves or burls, we also offer cus­tomer-spe­cif­ic sur­face pat­terns. In addi­tion to the sol­id mate­ri­als, porous mate­ri­als such as cel­lu­lar rub­ber, sponge rub­ber, polyurethane and sil­i­cone foam can be used excel­lent­ly for var­i­ous seal­ing require­ments. Stamped parts and blanks can be found in all areas of indus­try. They are pro­duced for mechan­i­cal and appa­ra­tus engi­neer­ing, the food indus­try, pipeline con­struc­tion, the elec­tri­cal engi­neer­ing indus­try, vehi­cle con­struc­tion or agri­cul­tur­al engi­neer­ing, among oth­ers.
Pro­cess­ing of flat semi-fin­ished prod­ucts — water jet cut­ting
In con­trast to the usu­al punch­ing process, the man­u­fac­tur­ing process of water jet cut­ting offers the advan­tage that it is par­tic­u­lar­ly suit­able for soft or mul­ti-lay­er mate­ri­als. In addi­tion, mate­ri­als of vary­ing hard­ness and fine geome­tries can be processed. Plates lying flat on a met­al grid are cut with a pre­cise­ly direct­ed thin water jet. The large num­ber of dif­fer­ent mate­ri­als and the large dif­fer­ences in the num­ber of stamp­ings and blanks require spe­cif­ic pro­duc­tion facil­i­ties. We there­fore rely on strate­gic sup­ply part­ners who com­ple­ment our in-house pro­duc­tion for projects with small quan­ti­ties and spe­cif­ic man­u­fac­tur­ing process­es.
Refine­ment
Var­i­ous fin­ish­ing tech­niques can be used to sig­nif­i­cant­ly extend the pos­si­ble uses of stamped parts and blanks. To facil­i­tate com­po­nent han­dling and reduce assem­bly work, the fol­low­ing tech­niques, among oth­ers, can be used
lam­i­nat­ing of foils
Lam­i­na­tion of adhe­sive sys­tems
Punch­ing of mul­ti-lay­er pull-off flaps
print­ing
Assump­tion of the scope of assem­bly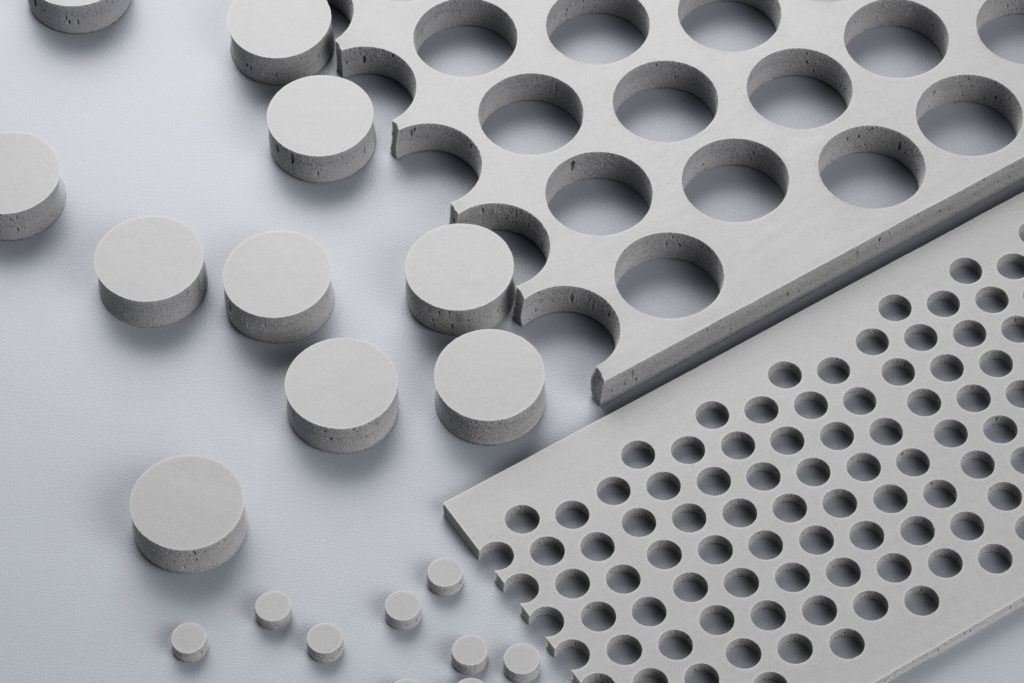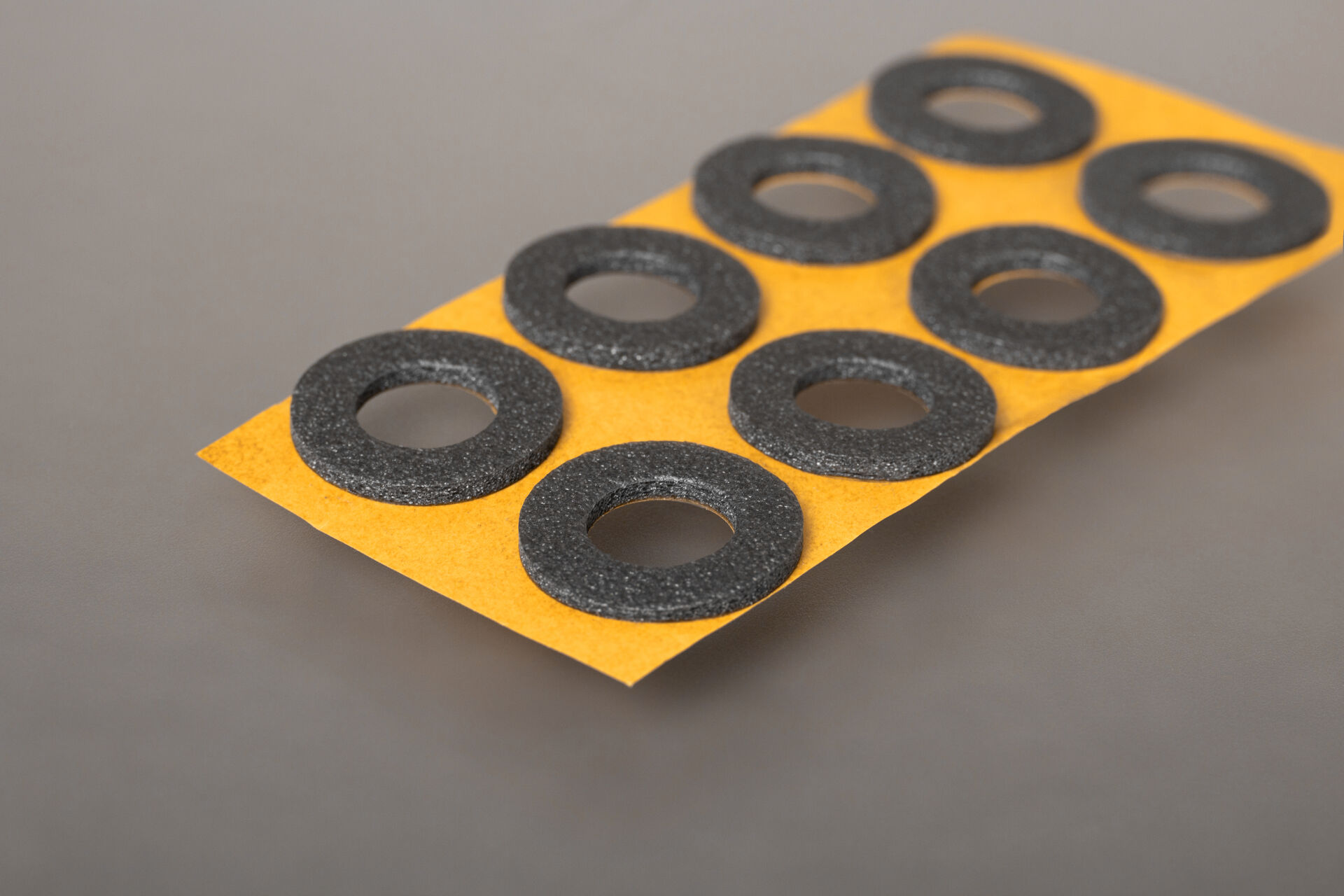 Among oth­er things, we offer the fol­low­ing mate­ri­als in the area of punched parts and blanks:
Rub­ber
NR/li>
SBR
IR
BR
NBR
EPDM
EPM
CR
ECO
ACM
Sil­i­cone
FKM
Elas­tomers are pre­dom­i­nant­ly also avail­able in cel­lu­lar form
Plas­tic
PA
POM
PC
PVC
PE
PP
PTFE
PUR
Var­i­ous ther­mo­plas­tics are also avail­able in cel­lu­lar form
High pres­sure mate­ri­als and com­pos­ite mate­ri­als