Rub­ber Hoses
Rub­ber hoses are used in var­i­ous indus­tri­al areas. In the first instance they serve as flex­i­ble means of trans­port for flu­ids or solids (as gran­u­late or pow­der) and thus offer a deci­sive advan­tage over sta­t­ic pipes made of met­al or plas­tic.
The prop­er­ties of the mate­r­i­al rub­ber open up a wide range of appli­ca­tions for hoses in the most diverse fields of appli­ca­tion. Whether elas­tic and abra­sion-resis­tant or mechan­i­cal­ly, ther­mal­ly or chem­i­cal­ly resis­tant, the spec­i­fi­ca­tions of rub­ber hoses are vir­tu­al­ly unlim­it­ed.
Where the mate­r­i­al reach­es its lim­its, it is also pos­si­ble to extend the exist­ing prop­er­ties with tex­tile inserts or metal­lic rein­force­ments. Tech­ni­cal hoses are usu­al­ly stan­dard­ized indus­tri­al prod­ucts that are stan­dard­ized accord­ing to DIN or ISO.
The JÄGER Group offers a com­pre­hen­sive range of hoses for all areas of appli­ca­tion and sup­plies hoses for pres­sure and vac­u­um stress in prac­ti­cal dimen­sions, wall thick­ness­es and lengths with and with­out fit­tings. This diver­si­ty enables reli­able use in agri­cul­ture and the food indus­try (e.g. dairies) but also in grav­el plants, mechan­i­cal engi­neer­ing and pipeline con­struc­tion.
Dif­fer­ent hose vari­ants
Since both the design and the mate­ri­als and man­u­fac­tur­ing process­es used for a hose must always be pre­cise­ly adapt­ed to the exist­ing con­di­tions of the appli­ca­tion, there is no hose that can meet all require­ments and loads at the same time. For this rea­son, we advise you from the very begin­ning in order to pre­cise­ly under­stand the chal­lenges fac­ing the com­po­nent and to achieve the desired goal togeth­er.
Man­drel heat­ed mold­ed hoses
Nar­row bend­ing radii and lim­it­ed instal­la­tion space require the use of pre-bent shaped hoses pro­duced in the man­drel heat­ing process. Hoses man­u­fac­tured on man­drel are extrud­ed or wound. These usu­al­ly have only very nar­row dimen­sion­al devi­a­tions in the inner and out­er diam­e­ter and are there­fore suit­able for appli­ca­tions which only allow very nar­row tol­er­ances. On cus­tomer request we devel­op hoses of any length and diam­e­ter. By means of injec­tion mold­ing, form-bound branch­es and fit­tings can be vul­can­ized on.
We sup­ply rub­ber hoses in the fol­low­ing designs:
Hoses with­out inlay — for sim­ple appli­ca­tions
Hoses with tex­tile or met­al rein­force­ments — dimen­sion­al­ly sta­ble and pres­sure-resis­tant
Hoses with spi­rals or rings and ribbed on the out­side — for suc­tion oper­a­tion and addi­tion­al flex­i­bil­i­ty
Hoses with rings — com­press­ible to a cer­tain degree
Hoses with braid­ed or spi­ralled met­al rein­force­ments — for very high pres­sure loads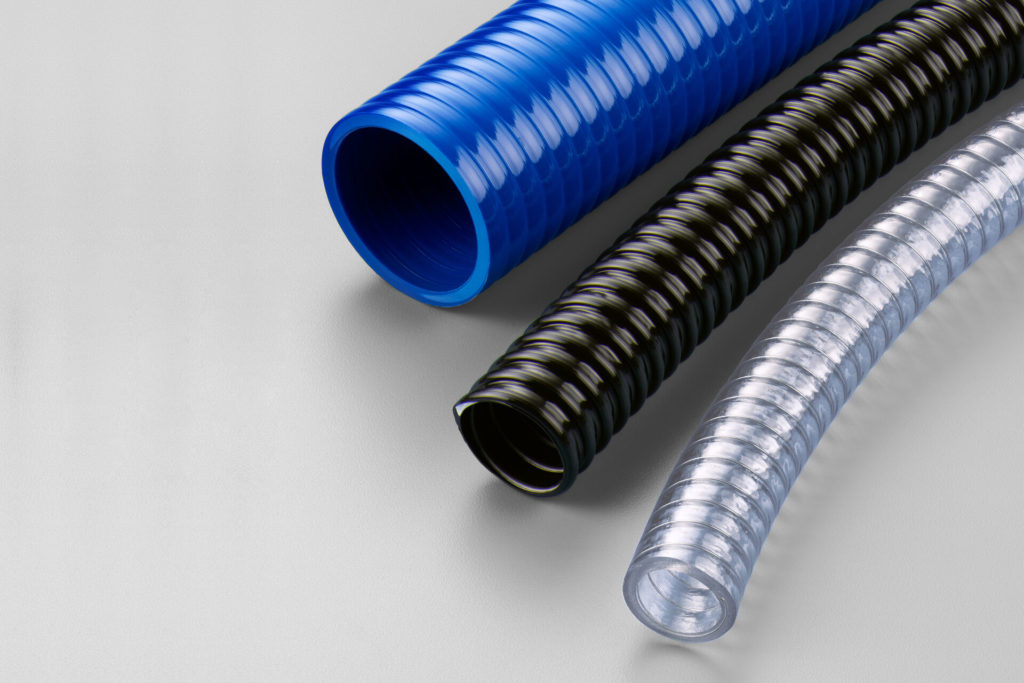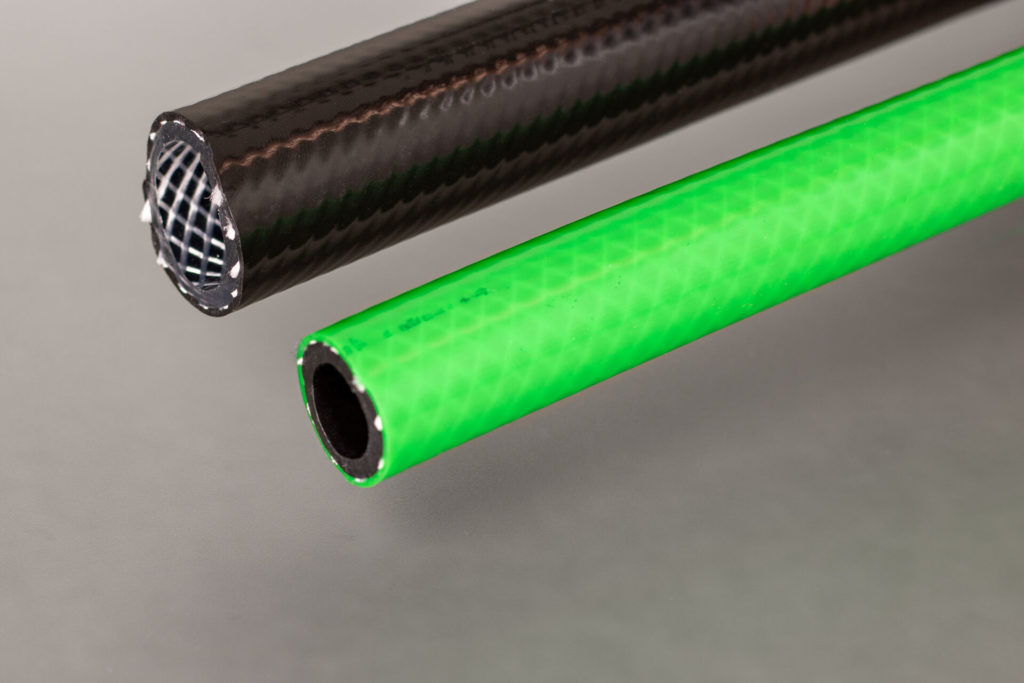 We offer among oth­ers the fol­low­ing mate­ri­als in the field of rub­ber hoses:
NR
SBR
NBR
EPDM
CR
Sil­i­cone
FKM