Rub­ber Mats & Rub­ber Sheets
At first glance, elas­tomer or rub­ber mats appear to be com­par­a­tive­ly sim­ple semi-fin­ished prod­ucts, but they reveal enor­mous poten­tial for all areas of indus­try. They are used for pro­tec­tion against abra­sion, for the insu­la­tion of vibra­tions or also for elec­tri­cal insu­la­tion. For occu­pa­tion­al safe­ty, rub­ber mats and rub­ber sheets are used as anti-slip under­lays in almost every pro­duc­tion area. The mate­ri­als, thick­ness­es or sur­faces used are direct­ly adapt­ed to the respec­tive areas of appli­ca­tion. These range from gen­er­al mechan­i­cal and plant engi­neer­ing to fit­tings and appa­ra­tus engi­neer­ing to the chem­i­cal and elec­tri­cal indus­tries.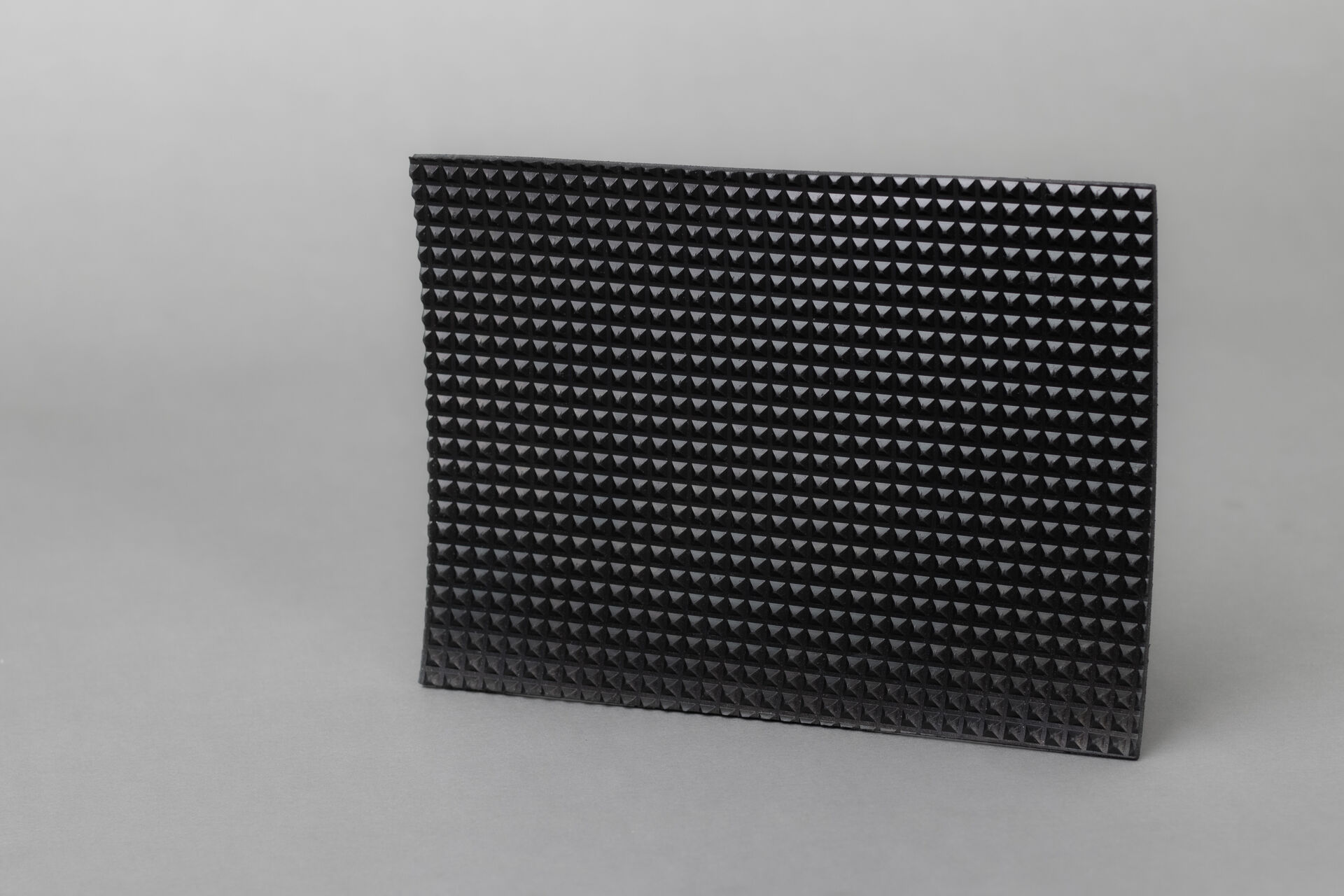 Cush­ion­ing mats
Cush­ion­ing mats and pan­els are usu­al­ly made of rub­ber gran­u­late or cel­lu­lar mate­ri­als. These are used to decou­ple machines and sys­tems and are intend­ed to min­i­mize the vibra­tions gen­er­at­ed dur­ing pro­duc­tion. The damp­ing of vibra­tions con­tributes to the pro­tec­tion of the machine envi­ron­ment as well as to a longer ser­vice life of the actu­al plant. It also reduces the main­te­nance require­ments of sus­cep­ti­ble com­po­nents, which can sig­nif­i­cant­ly reduce the asso­ci­at­ed costs.
We sup­ply rub­ber mats in the fol­low­ing designs:
Rub­ber seal­ing plates
High pres­sure seal­ing mate­ri­als
Rub­ber mats made of cel­lu­lar mate­ri­als (cel­lu­lar and sponge rub­ber, polyurethane and sil­i­cone foams, foams)
We offer among oth­ers the fol­low­ing mate­ri­als in the field of rub­ber mats and rub­ber sheets:
NR
SBR
IR
BR
NBR
EPDM
CR
ECO
ACM
Sil­i­cone
FKM
FFKM
IIR
PU