Rub­ber Pro­files
Rub­ber pro­files are pro­duced end­less­ly by extru­sion. For this pur­pose, the unvul­can­ized rub­ber mix­ture is plas­ti­cized in extrud­ers and brought into the appro­pri­ate cross-sec­tion­al geom­e­try by means of attached extru­sion tools (mouth­pieces) in the extru­sion head of the sys­tem. The mouth­pieces can be adapt­ed as required to pro­duce dif­fer­ent pro­file cross-sec­tions, so that the right geom­e­try can be real­ized for every appli­ca­tion. The pro­file is dimen­sion­al­ly sta­bi­lized by sub­se­quent vul­can­iza­tion. Vul­can­iza­tion in a steam boil­er or salt bath is used here, as well as hot air vul­can­iza­tion, UHF pro­duc­tion or IR shock vul­can­iza­tion. Rub­ber pro­files are used for pro­tec­tion or seal­ing in vehi­cle con­struc­tion, the con­struc­tion indus­try and gen­er­al mechan­i­cal engi­neer­ing, among oth­ers.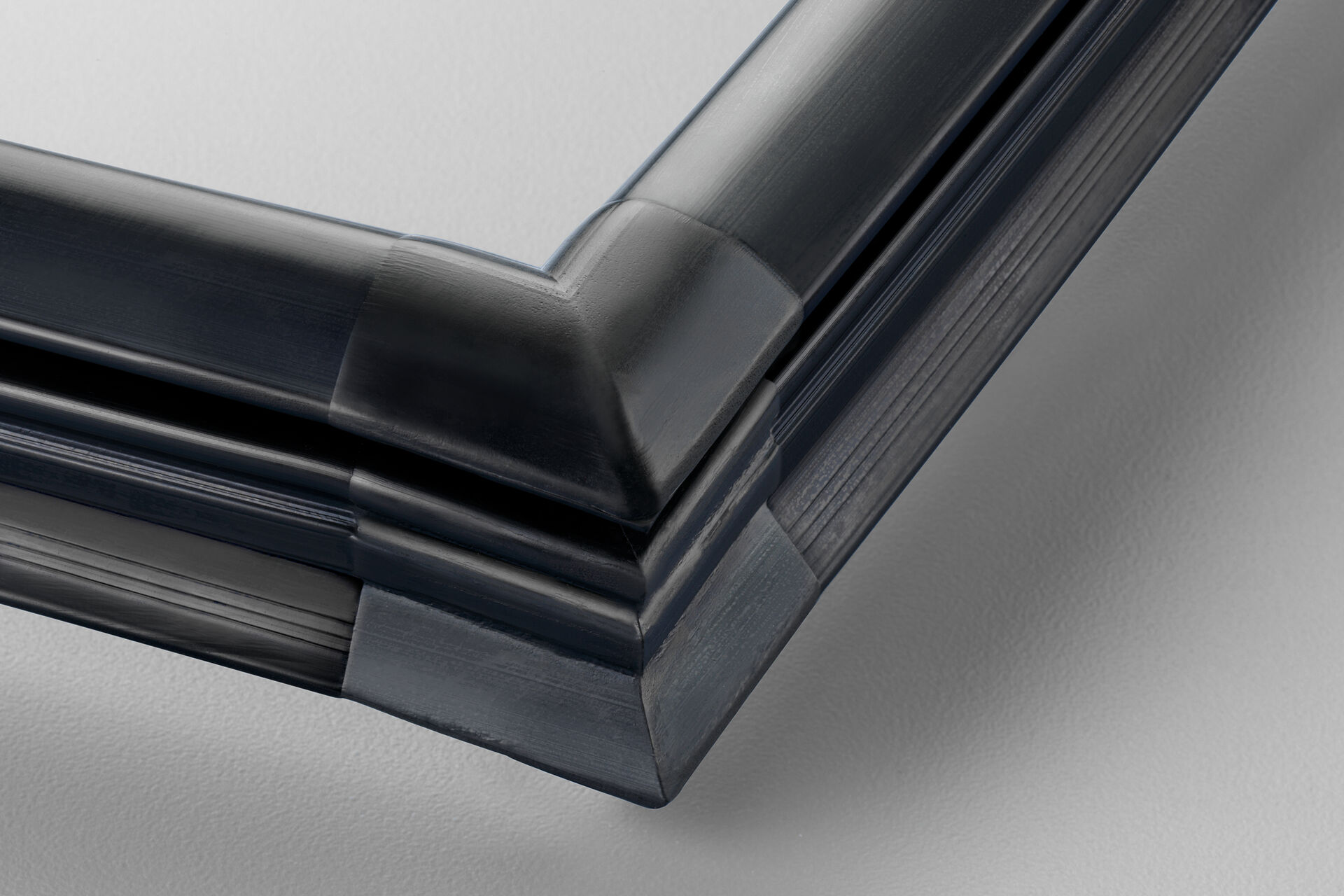 Indi­vid­ual
In the case of dynam­i­cal­ly stressed pro­file seals, we cal­cu­late the nec­es­sary con­tact pres­sure forces and then adjust them specif­i­cal­ly by means of hol­low cham­bers or foam struc­tures. The nec­es­sary over­lap or the gas­ket stroke can be numer­i­cal­ly opti­mized by means of FEM analy­sis. These spe­cial designs are sup­ple­ment­ed by a wide range of stan­dard pro­files.
full pro­files made of one mate­r­i­al
duplex or n‑plex pro­files made of sev­er­al mate­ri­als or hard­ness­es
Foam rub­ber pro­files and soft rub­ber pro­files and their com­bi­na­tions
Edge pro­tec­tion pro­files with and with­out seal­ing and cov­er­ing ele­ments
Fin­ish­ing tech­niques
To improve the han­dling and to facil­i­tate fur­ther pro­cess­ing, we offer var­i­ous fin­ish­ing options.
Sim­pli­fied han­dling of small parts through kiss-cut punch­ing to the lin­er
Unique iden­ti­fi­ca­tion of the com­po­nents through mul­ti­coloured lin­ers and print­ing
Par­tial notch­ing and exact cut­ting to length to achieve tight bend­ing radii of cir­cum­fer­en­tial seals
Injec­tion of mould cor­ners in elas­tomer or TPE
Func­tion­al sur­faces through flock­ing and bond­ed coat­ings
con­nec­tion of cut sur­faces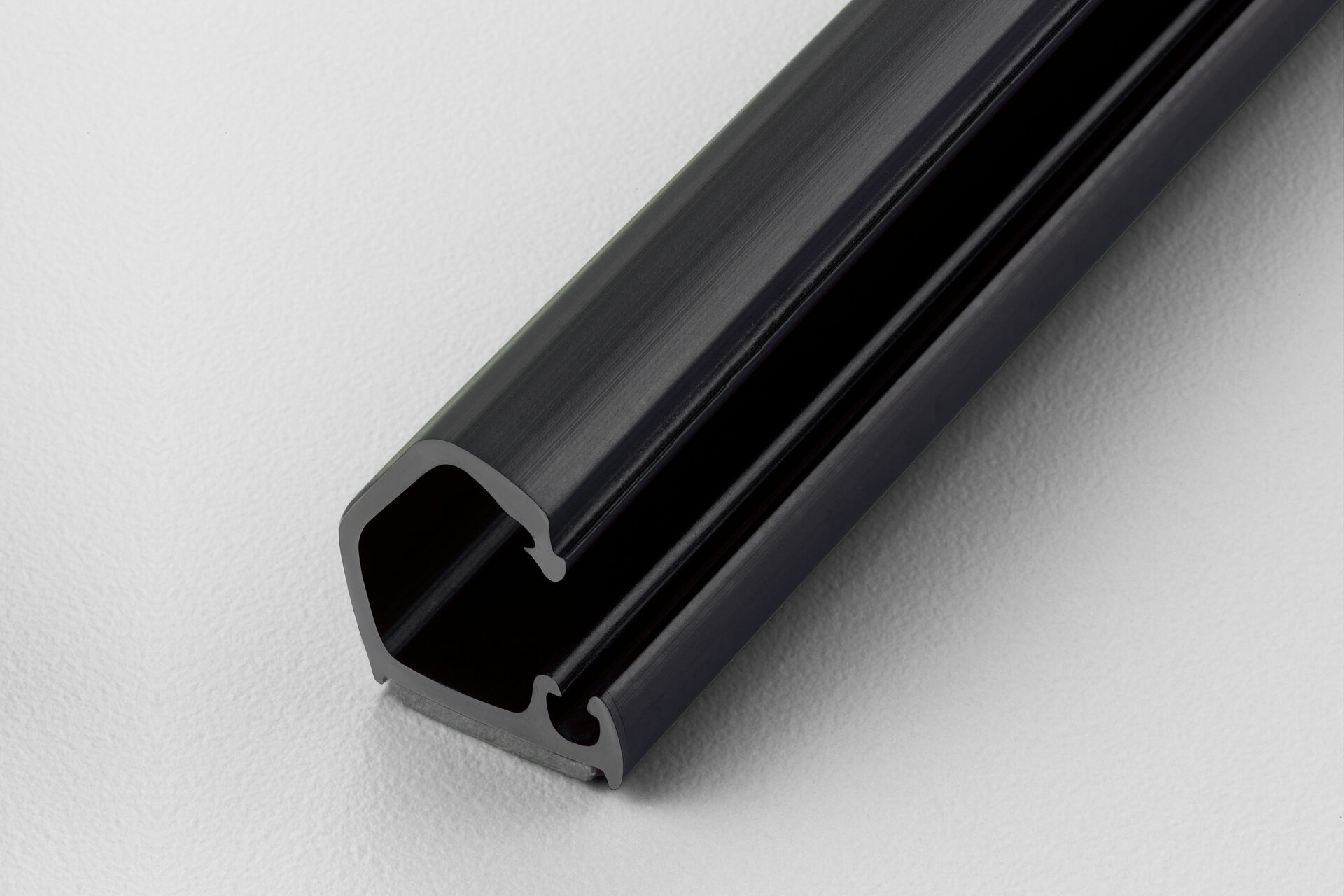 Self-adhe­sive
To sim­pli­fy the assem­bly process, pro­files can be equipped with sim­ple, self-adhe­sive assem­bly aids. These cold-applied adhe­sive tapes serve, for exam­ple, as trans­port pro­tec­tion, but do not rep­re­sent a per­ma­nent fas­ten­ing. By using heat-acti­vat­ed adhe­sive sys­tems, pro­files can also be fixed or bond­ed per­ma­nent­ly and process-safe if required. For exam­ple, pull-in grooves in var­i­ous com­po­nents can be dis­pensed with.
We offer among oth­ers the fol­low­ing mate­ri­als in the field of rub­ber pro­files
EPDM
NBR
NR
SBR
CR
Sil­i­cone
FKM