Half Shells
JÄGER Group devel­ops deci­sive assem­bly pro­tec­tion for rotor blade bolts
Pre­cise­ly fit­ting assem­bly of rotor blades with more than 50 bolts
Cost-effec­tive pro­tec­tion for rotor blade bolts against impacts and scratch­es
Facil­i­ta­tion of the blade align­ment dur­ing assem­bly
PP half-shells as assem­bly pro­tec­tion for rotor blade bolts
Sta­ble and cost-effec­tive mate­r­i­al
Sim­ple assem­bly prin­ci­ple via click lock
Secure pro­tec­tion of the rotor blade bolts against dam­age
Expen­sive replace­ment pro­ce­dures on run­ning sys­tems are no longer nec­es­sary
Faster ini­tial assem­bly of the rotor blades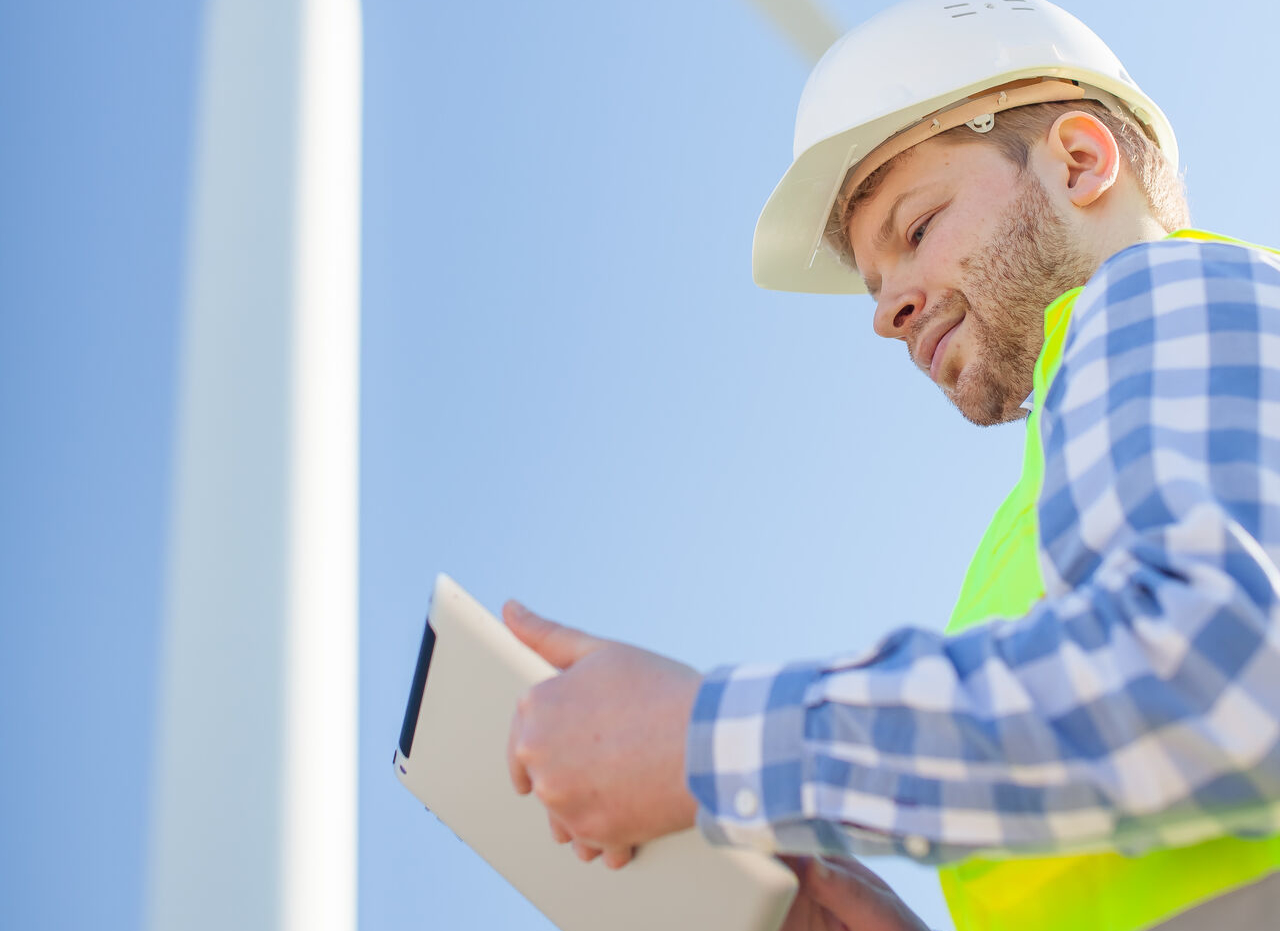 Chal­lenge
Fault-free instal­la­tion at a lofty height
The assem­bly of rotor blades is a high­ly com­plex process. Depend­ing on the sys­tem type, at least 54 bolts must be aligned to the align­ment of the cor­re­spond­ing rotor blade hub open­ing. A process with large weights on the crane, swing­ing at lofty heights. This does not always suc­ceed with­out
prob­lems and can lead to dam­ages on the rotor blade bolts. And dam­aged bolts can cor­rode with time and loose sta­bil­i­ty. In this case, high costs would be the con­se­quence.
A man­u­fac­tur­er of wind tur­bines reports to Jäger Gum­mi und Kun­st­stoff GmbH with this issue. They already know each oth­er: Jäger has already devel­oped high­ly effi­cient and cost-opti­mized process­es and prod­ucts for pre­vi­ous chal­lenges this cus­tomer faced.
How then will Jäger now con­struct a pro­tec­tion for the exten­sion shaft of the bolt with a diam­e­ter of 36 mil­lime­ters which simul­ta­ne­ous­ly facil­i­tates blade align­ment, avoids ser­vic­ing costs, and ide­al­ly reduces assem­bly costs?
High costs due to assem­bly dam­ages
The cost cal­cu­la­tion press­es on the sys­tem man­u­fac­tur­er from two fronts. Not only the replace­ment of the rotor blade bolt strains the cost­ing, but the actu­al exchange of the dam­aged rotor blade bolt, which must be con­duct­ed dur­ing stand­still. Thus the wind tur­bine can­not pro­duce any elec­tric­i­ty dur­ing the replace­ment, which leads to a loss of pro­ceeds.
This poten­tial weak­ness in the bolt was not con­sid­ered in the ini­tial cal­cu­la­tion. There­fore, the devel­op­ment of the desired prod­uct for the bolt is now added to the ser­vic­ing items. The pres­sure to find a solu­tion is cor­re­spond­ing­ly high, which is fol­low­ing a sim­ple and resilient path both in pro­duc­tion and assem­bly.
Pro­tec­tive coat­ing for exten­sion shaft not suit­able
The weak point on the exten­sion shaft of the bolt, which is sup­posed to take up or bal­ance dynam­ic forces by taper­ing its diam­e­ter, can be traced back to a change in cor­ro­sion pro­tec­tion. The so-called zinc flake coat­ing has replaced hot-dip gal­va­niza­tion: The bolts receive a high qual­i­ty paint coat, but even the tini­est scratch­es already offer points of attack for cor­ro­sion. Alter­na­tive approach­es to face this weak point were already proven unsuit­able.
Attach­ing an elas­tic pro­tec­tive hose is also ruled out as the thread of a rotor bolt is larg­er than the shaft itself. Due to this cir­cum­stance, attach­ing a pro­tec­tive hose is more dif­fi­cult and cost­ly than, for exam­ple, with dou­ble ends which have con­tin­u­ous­ly uni­form diam­e­ters. Also the required quan­ti­ty gives the engi­neers food for thought.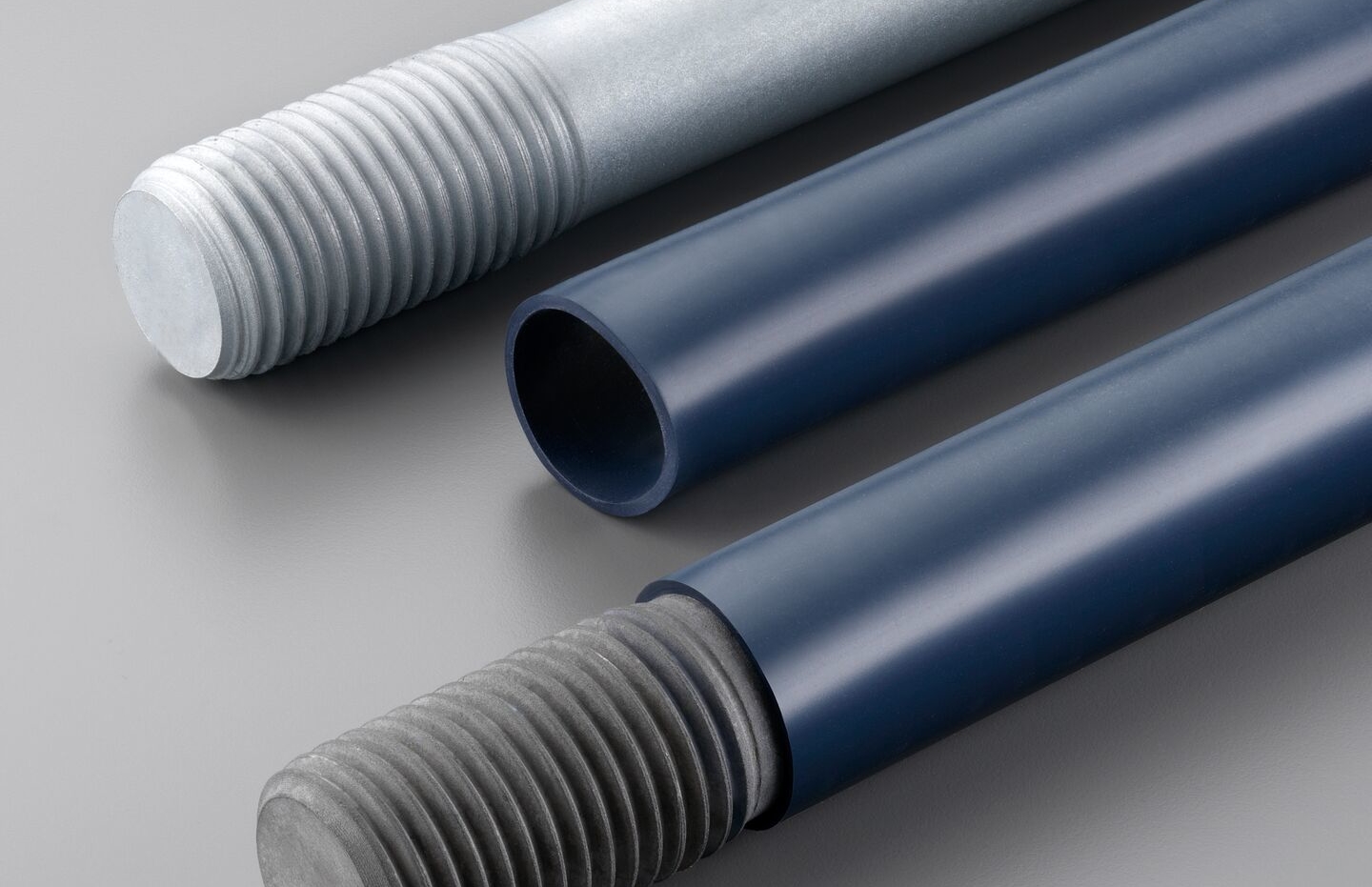 Solu­tion
One-klick solu­tion: Half Shells
The JÄGER experts pro­pose an alter­na­tive: two half shells lock­able with each oth­er, man­u­fac­tured with injec­tion mold­ing.
After the first exchange of ideas between the engi­neers at Jäger and the devel­op­ers of the bolt man­u­fac­tur­er as well as the sys­tem man­u­fac­tur­er, the Jäger engi­neers man­u­fac­ture the first mutu­al pro­to-types with a 3D print pro­ce­dure. The pro­to­types made from draw­ings run through sev­er­al steps which form the coor­di­na­tion process with all those involved.
The basic idea seems so sim­ple and con­vinc­ing: Two half-shells hug the area of the exten­sion shaft and are con­nect­ed via a click lock. The half­shells are made of PP (polypropy­lene) and offer the right aver-age between sta­bil­i­ty and dimen­sion­al tol­er­ance of the exten­sion shaft.
In order that the bolts are cen­tered to the hub inside the through­way open­ing dur­ing the assem­bly process of the rotor blade the half-shell receives a slim, cir­cum­fer­en­tial bulge at one place. This does not only pro­tect the scratch-sen­si­tive sur­face from mate­r­i­al dam­age. The rotor blade bolt is fixed on the hub using a nut, keep­ing the pro­tec­tion of the exten­sion shaft in the sys­tem.
Result
Assem­bly suc­ceeds faster
The pre­cise devel­op­ment process and the sam­ple pro­duc­tion are bulky for this task. But the sta­mi­na of the Jäger engi­neers pays off for the cus­tomer: As a result, the com­pa­ny is now pro­vid­ed with a cost-effec­tive and reli­able solu­tion.
The Jäger solu­tion facil­i­tates assem­bly and saves from future cost­ly ser­vic­ing works on the already in-stalled wind tur­bine each val­ued at sev­er­al thou­sand Euro.
Your con­tact per­son for the half shells: