Impact Roller
JÄGER Group devel­ops reli­able pro­tec­tion for waste dis­pos­al vehi­cles
Need­ed: Tough and reli­able pro­tec­tion for waste con­tain­ers
Search for an elas­tic, dimen­sion­al­ly sta­ble mate­r­i­al
Cost effi­cient mate­r­i­al and man­u­fac­tur­ing process required
The installed steel shaft is cov­ered by an elas­tic impact roller
Per­fect mate­r­i­al selec­tion thanks to com­pre­hen­sive knowl­edge
Sub­se­quent adjust­ment of mate­r­i­al and man­u­fac­tur­ing process to opti­mize costs
Waste con­tain­ers remain intact
Com­plaints to the waste man­age­ment com­pa­nies are elim­i­nat­ed
Price and deliv­ery time improve­ments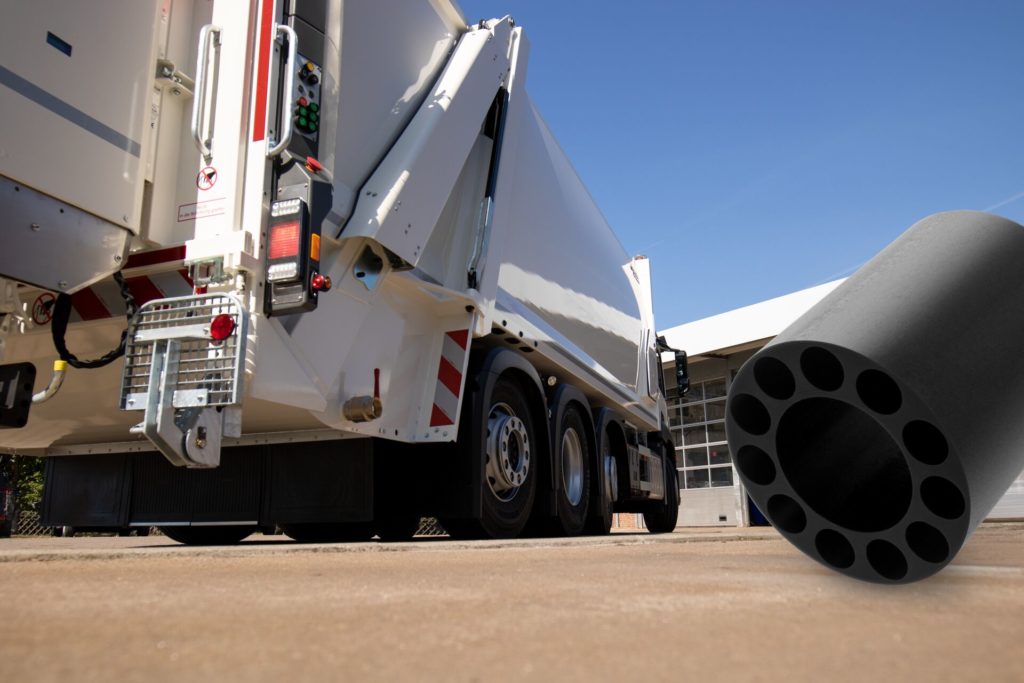 Pro­tect garbage cans form wear and tear
They are the busy machines that emp­ty the garbage from our garbage cans at least once a week: waste dis­pos­al vehi­cles!
ZÖLLER-KIPPER GmbH from Mainz is Europe's largest man­u­fac­tur­er of hydraulic lift and tip­ping vehi­cles for waste emp­ty­ing and col­lec­tion. Zöller turned to its sup­pli­er of many years, Jäger Gum­mi und Kun­st­stoff GmbH with which they joint­ly devel­oped some of the arti­cles that are installed in the so-called "lifter".
A lifter is the area respon­si­ble for lift­ing and emp­ty­ing the garbage cans — usu­al­ly at the rear of a garbage truck. This time Zöller need­ed a com­po­nent that would pro­vide the refuse col­lec­tion vehi­cles with spe­cial pro­tec­tion.
This is because when the waste con­tain­er was lift­ed to the top and emp­tied in the waste dis­pos­al vehi­cle, it struck the top of the vehicle's stop, which could not absorb the impact. For this rea­son, Zöller need­ed a pro­tec­tive jack­et for the steel shafts used in the process.
Chal­lenge
Long-last­ing pro­tec­tion for waste con­tain­ers want­ed
The steel shafts must be encased so that a spring effect is achieved. In this way, waste con­tain­ers would no longer be dam­aged and vehi­cle oper­a­tors would no longer be exposed to the risk of injury from the defec­tive garbage cans.
After the mate­ri­als experts at Jäger Gum­mi und Kun­st­stoff test­ed var­i­ous mate­ri­als and geome­tries, they first pro­duced a PU mold­ed part that fit­ted the shaft per­fect­ly. They test­ed var­i­ous hol­low cham­bers and hard­ness lev­els. They then cre­at­ed a mold for cast­ing polyurethane. The pro­to­types of the impact roller were sub­ject­ed to sev­er­al prac­ti­cal tests on vehi­cles with full waste con­tain­ers. Despite the tech­ni­cal­ly suc­cess­ful solu­tion,
the cus­tomer want­ed a dif­fer­ent solu­tion as the PU com­po­nent was very cost-inten­sive due to the cast­ing process. Jäger there­fore devel­oped an alter­na­tive.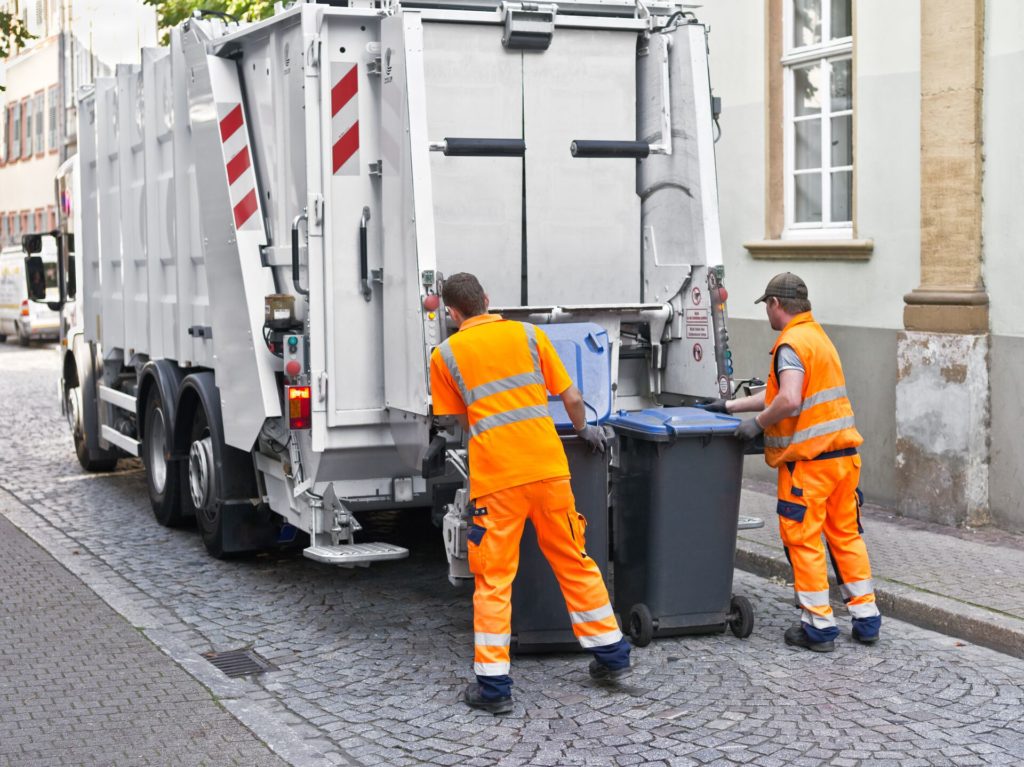 Solu­tion
Robust, cost-effec­tive impact roller for waste dis­pos­al vehi­cles
The Jäger engi­neers thought ahead and pro­duced an EPDM pro­file of iden­ti­cal con­struc­tion. Thanks to its good resis­tance to weath­er­ing, EPDM is par­tic­u­lar­ly suit­able for out­door appli­ca­tions, such as in waste dis­pos­al vehi­cles. In addi­tion, the elas­tic mate­r­i­al is an inex­pen­sive yet durable mate­r­i­al. The unit price could also be reduced, due to the of the EPDM component's fast extru­sion process. The new solu­tion went into series pro­duc­tion after it had been thor­ough­ly test­ed and approved in joint prac­ti­cal tests at the customer's site.
Result
Well-pro­tect­ed waste con­tain­ers
Thanks to the EPDM solu­tion, pro­duc­tion times for the impact roller have been reduced and Jäger Gum­mi und Kun­st­stoff is able to always rapid­ly deliv­er the com­po­nent to Zöller.
With the elas­tic impact roller on the steel shaft, the waste con­tain­ers are now pro­tect­ed from scratch­es and wear. In addi­tion, the vehi­cle price remains low thanks to the cost­ef­fec­tive EPDM solu­tion. The dis­pos­al com­pa­nies now save the addi­tion­al costs of cus­tomer com­plaints and fre­quent replace­ment of waste con­tain­ers while main­tain­ing the low vehi­cle price. Last but not least, the house own­ers are hap­py about intact and nice-look­ing waste garbage cans.
Your con­tact for the impact roller: