Pipe Con­nec­tor
Easy to install pipe con­nec­tor as a uni­ver­sal con­nec­tion between rub­ber and plas­tic
Safe and pres­sure-tight con­nect­ing ele­ment for glass tubes want­ed!
Mod­u­lar pipe con­nec­tion sys­tem for flex­i­ble appli­ca­tions!
Quick assem­bly with­out elec­tri­cal aids!
Joint devel­op­ment with the cus­tomer.
Inno­v­a­tive com­bi­na­tion of rub­ber and plas­tic parts!
Spe­cial tool for easy assem­bly.
Con­sid­er­able reduc­tion of glass break­age saves costs!
High­er work­ing pres­sure on the pipe sys­tem pos­si­ble.
Com­po­nent and tools from one source for smooth plant oper­a­tion.
Jäger con­nects — Pipes and Ideas
The glass pro­duc­er Schott AG is a sup­pli­er for oper­a­tors of plants for microal­gae cul­ti­va­tion. How­ev­er, his search for a reli­able con­nec­tion of the glass tubes used in this process is prov­ing dif­fi­cult, as they have to meet exten­sive require­ments.
In his func­tion as devel­op­ment sup­pli­er, Jäger has from the very begin­ning pro­vid­ed all the capac­i­ties avail­able through­out the group in the areas of prod­uct and mate­r­i­al devel­op­ment as well as tool­mak­ing for this devel­op­ment coop­er­a­tion. The coop­er­a­tion between Jäger and Schott AG is char­ac­ter­ized by the great­est trans­paren­cy and open­ness, which is man­i­fest­ed in an absolute­ly inno­v­a­tive and yet sim­ple prod­uct:
The Jäger pipe con­nec­tor!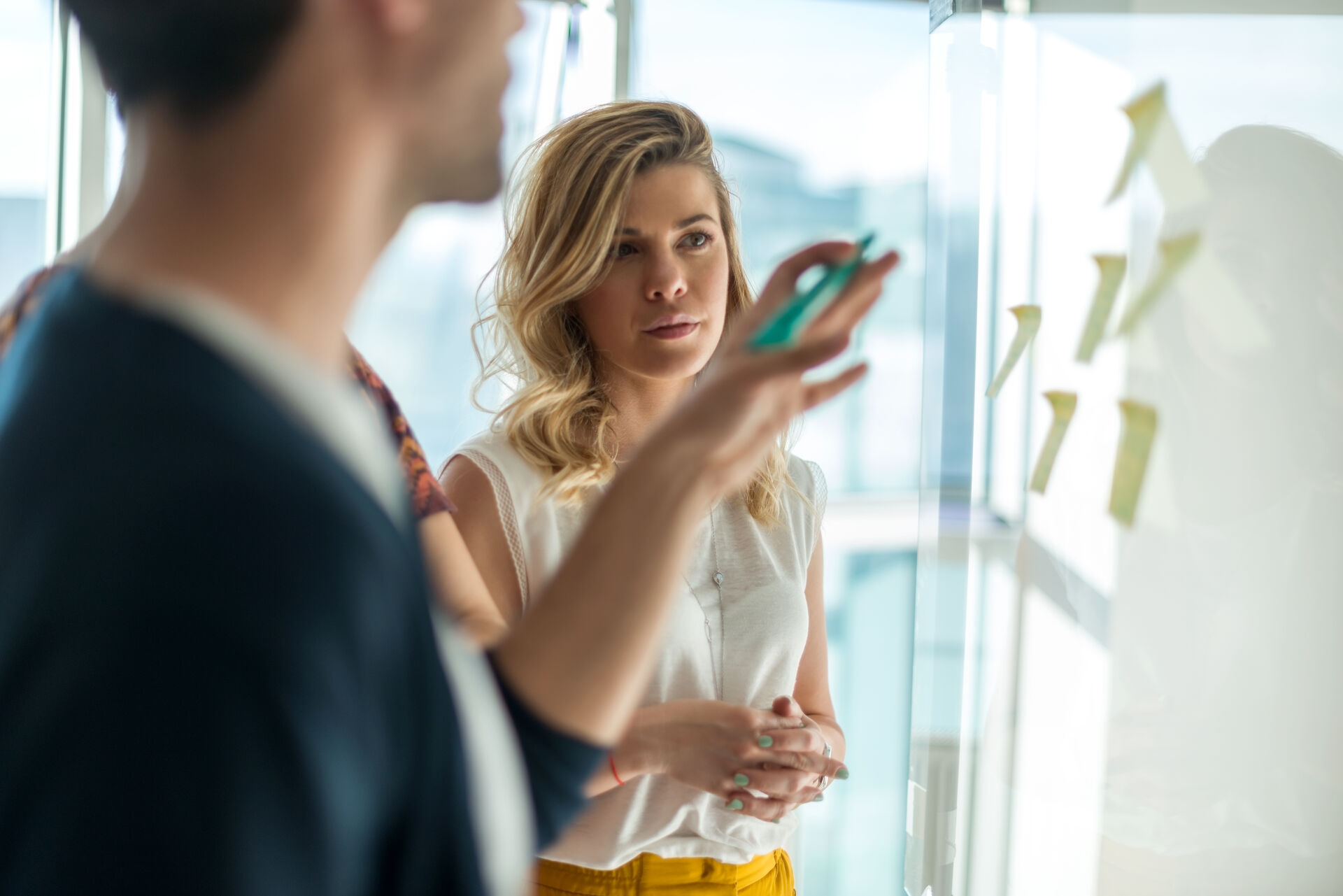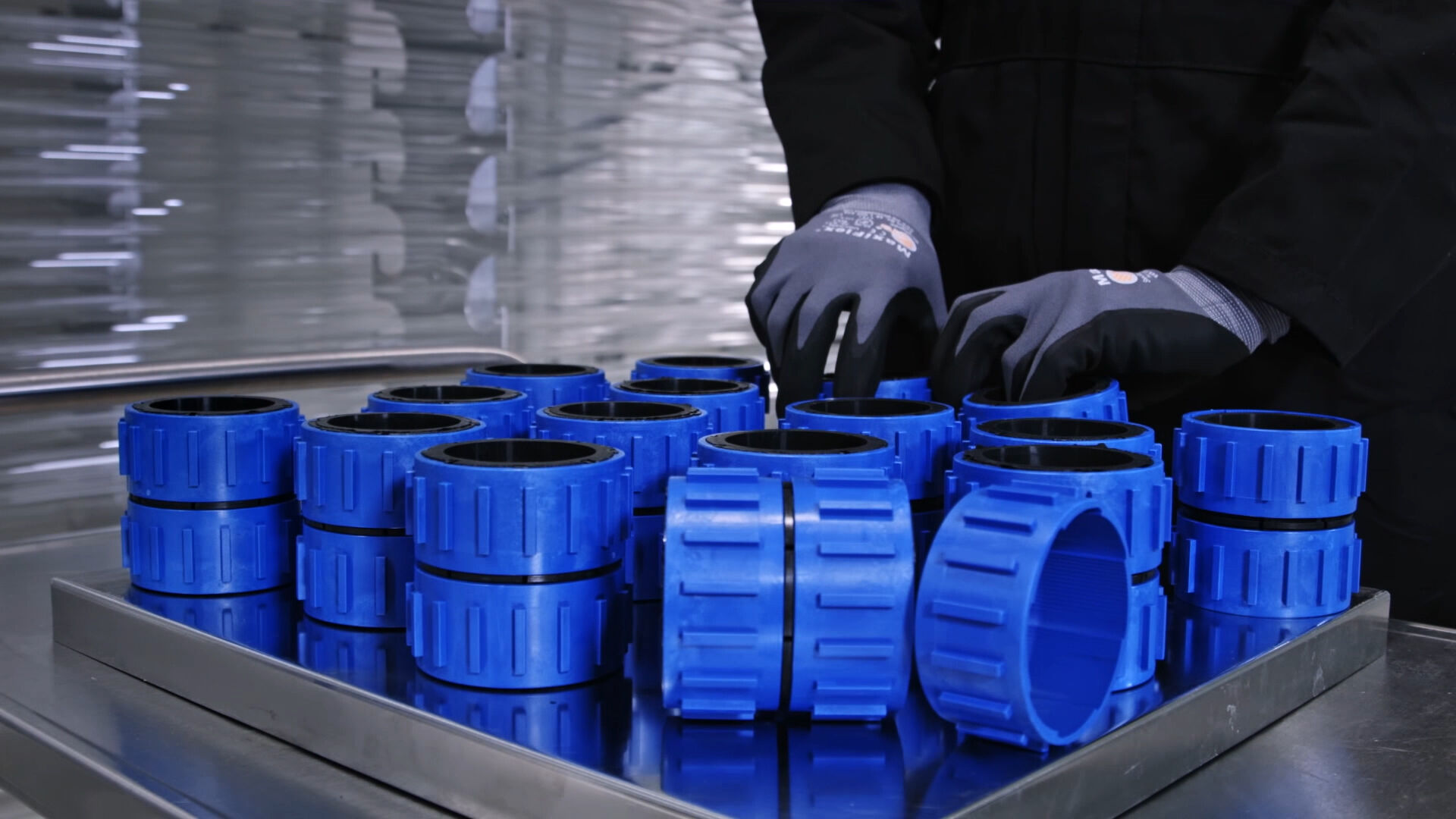 Chal­lenge
Eas­i­ly mount­able con­nec­tion sys­tem want­ed
The cul­ti­va­tion of tech­ni­cal microal­gae is becom­ing increas­ing­ly impor­tant in indus­try. Species such as spir­uli­na and chlorel­la are cul­ti­vat­ed under solar radi­a­tion by means of pho­to­syn­the­sis in sev­er­al thou­sand metre long glass tube struc­tures. The assem­bly and dis­as­sem­bly of the pre­vi­ous­ly used pipe clamps was time-con­sum­ing and there­fore cost­ly for the cus­tomer.
First and fore­most, the Jäger pipe clamps have to con­nect the glass pipes used in a pres­sure-tight man­ner, where­by atten­tion must be paid to the flow prop­er­ties of the medi­um. In order to ensure smooth trans­port of the algae mass, only low flow resis­tance must be cre­at­ed at the con­nec­tors, as any uneven­ness with­in the sys­tem would cause tur­bu­lence.
The aim is to devel­op a mod­u­lar and simul­ta­ne­ous­ly scal­able pipe con­nec­tion sys­tem that can with­stand the var­i­ous stress­es in use, such as reli­able seal­ing, as well as the require­ments of main­te­nance.
Solu­tion
Com­pre­hen­sive knowl­edge of mate­r­i­al leads to inno­va­tion
The experts at Jäger Gum­mi und Kun­st­stoff GmbH are devel­op­ing a com­bi­na­tion of rub­ber and plas­tic parts that can be attached and detached using spe­cial tools with­out the need for elec­tri­cal devices, while at the same time with­stand­ing both the pres­sure that aris­es and UV radi­a­tion.
Three sim­ple and simul­ta­ne­ous­ly inge­nious com­po­nents make the dif­fer­ence:
Exter­nal plas­tic rotat­ing rings with cir­cum­fer­en­tial pro­fil­ing pro­vide the nec­es­sary attach­ment sur­face for the cor­re­spond­ing spe­cial tool, a pre­cise­ly fit­ting torque wrench.
The required com­pres­sion of the seal­ing sys­tem is made pos­si­ble by an inner sleeve with lon­gi­tu­di­nal­ly run­ning slots, as this con­tracts when the plas­tic ring is rotat­ed.
Final­ly, the inter­nal elas­tomer seal­ing body is inject­ed onto the inner sleeve, so that a reli­able seal can be pro­vid­ed
The well-found­ed mate­r­i­al devel­op­ment of the Jäger pipe con­nec­tor enables both UV resis­tance and food-grade appli­ca­tion. These prop­er­ties are essen­tial to allow the micro algae, which are also used as food and ani­mal feed, to grow under inten­sive solar radi­a­tion.
Due to the mate­r­i­al knowl­edge of Jäger Gum­mi und Kun­st­stoff GmbH, an assem­bly of dif­fer­ent com­po­nents is cre­at­ed to achieve the set goal.
Result
Quick­ly sealed instead of quick­ly bro­ken
A cen­tral aspect of more effec­tive main­te­nance of the pho­to biore­ac­tors is the sim­ple assem­bly and dis­as­sem­bly of the indi­vid­ual parts. This is faster than with the met­al clamp used up to then, which required an addi­tion­al and time-con­sum­ing screw con­nec­tion.
A recur­ring prob­lem of the assem­bly with met­al clamps arose from the neces­si­ty of a per­fect­ly tuned torque, which had to act on the screw con­nec­tion. If the force applied was too low, the con­nec­tion would not be reli­ably sealed, and if the con­tact pres­sure was too high, the pipes would be at risk of glass break­age. With the Jäger pipe con­nec­tor, it was pos­si­ble to reduce the glass break­age dur­ing instal­la­tion with­out hav­ing to forego a per­ma­nent seal. The new con­nec­tion achieves even more, because the now pos­si­ble work­ing pres­sure with­in the pipe sys­tem is up to 6 bar. Jäger thus ensures smooth and effi­cient oper­a­tion of the sys­tems.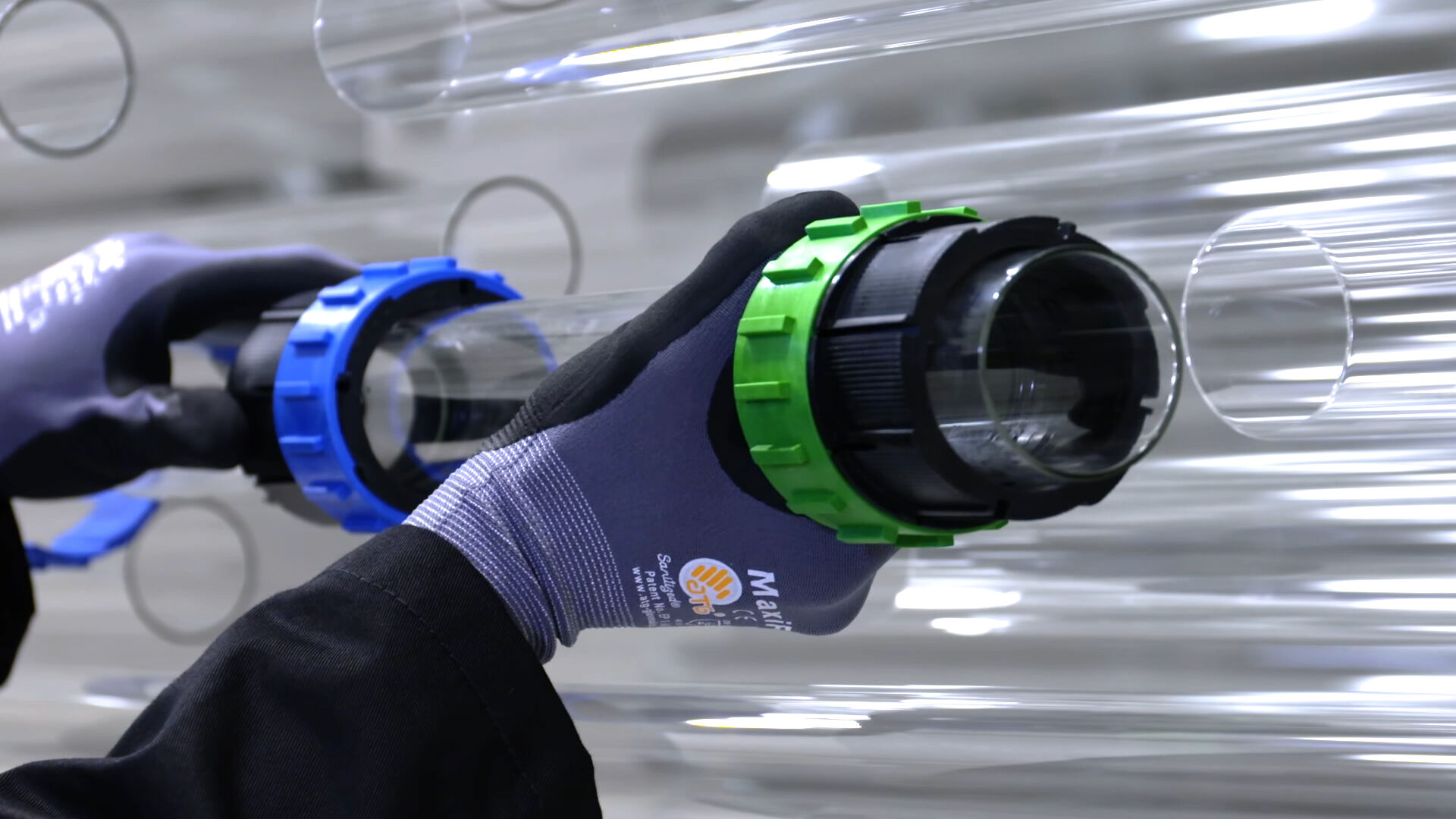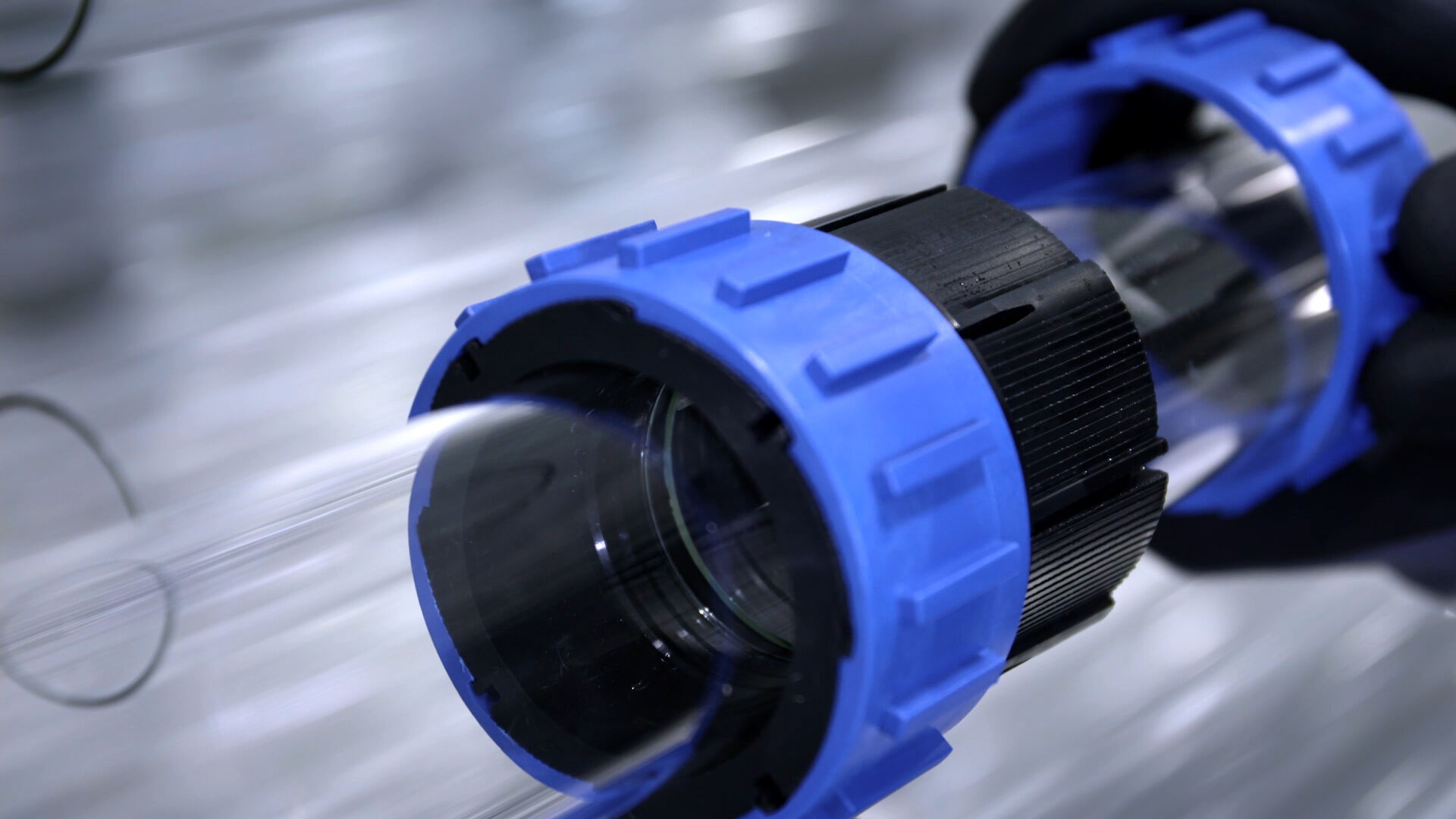 Effi­cien­cy and sus­tain­abil­i­ty
The tech­nol­o­gy of the Jäger pipe con­nec­tor can be used uni­ver­sal­ly and, in addi­tion to the con­nec­tion of two glass pipes, also offers the pos­si­bil­i­ty of join­ing pipes of dif­fer­ent mate­ri­als. Among oth­er things, glass-plas­tic or met­al-plas­tic con­nec­tions can be eas­i­ly installed. An appli­ca­tion in
the plas­tic pro­duc­tion or in the field of solar water treat­ment is pos­si­ble with­out any prob­lems.
Your con­tact for the pipe con­nec­tor