Jaeger-Unitek Announces Launch of New 4-Component Extrusion Line
Jaeger-Unitek Sealing Solutions, a leading thermoplastic and rubber profile extrusion producer announced the launch of its' new million dollar 4-component extrusion line in their La Porte, Indiana facility.
The new extrusion line is capable of producing complex, tight-tolerance extruded profiles which can utilize up to four different polymers. Company officials cited continued growth in their industrial, automotive and recreational vehicle markets which led to the expanded production area and investment to serve a growing application and customer base. Joining the Jaeger-Unitek team for the new extruder ribbon-cutting ceremony included Tom Dermody, La Porte City Mayor, Jim Pressel, Indiana State House Representative, Bert Cook, Executive Director of the La Porte Economic Advancement Partnership (LEAP) and Jackie Dermody, Regional Director, Senator Mike Braun's Office and Glenn Bruce, Executive, Collins and Company.
"Our customers continue to expand in their respective market areas requiring high performance engineered thermoplastic materials with outstanding properties in very harsh environments. We find our RV customers demanding material and process technologies which deliver parts consolidation, ease of assembly and durability when exposed to extreme temperature cycling and UV light. Our greatest strength is our people and how we apply unique materials knowledge to help our customers improve performance and reduce total costs", commented by Kevin Casey, President, Jaeger-Unitek.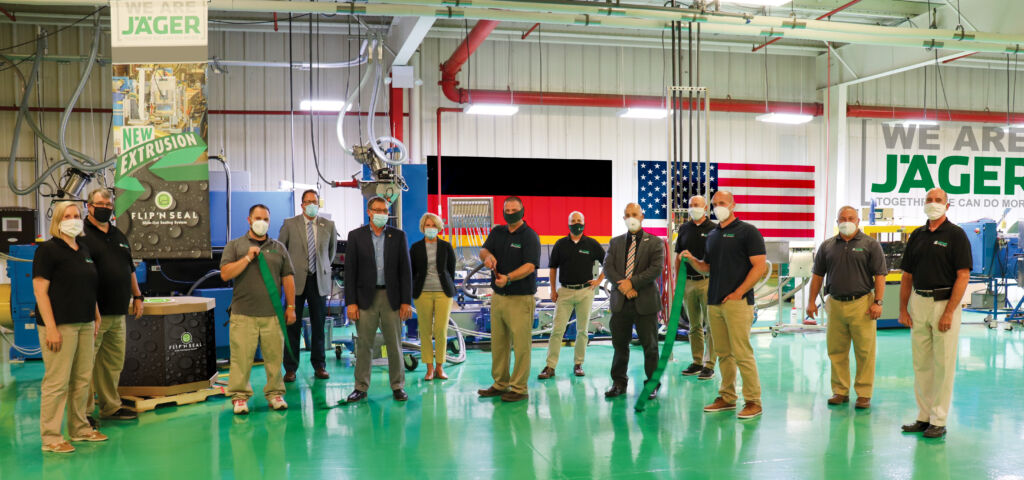 Jaeger-Unitek formed an exclusive distribution with Collins & Company in 2019 to serve the RV OEM customer base. According to Rich Collins, President, "Jaeger-Unitek's patented Flip 'N Seal Slide-Out Sealing System has become the industry benchmark for our RV clients, the market is booming as consumers seek vacations without air travel and Jaeger's slide-out seal utilizes the best-in-class automotive materials to seal vehicles from temperature, dust and water intrusions".
Jim Archer, Vice President of Operations added "our valued associates have successfully integrated our lean manufacturing culture with a highly efficient distribution process to create a very effective and repeatable supply chain. We are proud to be able to deliver high quality products along with the outstanding service that our customers deserve. "
According to Mayor Tom Dermody, "I could not be more pleased to be here today to celebrate with Jaeger-Unitek. Since 1925, the whole team at Jaeger has been committed to our community. They have continually grown here in La Porte and embody what it means to be La Porte Proud!".