Cleartec® Module
Cleartec® Biotextil and BioCurlz are used as fully submerged fixed beds in the biological stage of a wastewater treatment plant. The media are fixed in a stainless steel module that can be mounted above an existing aeration system or with integrated diffuser. The module dimensions are influenced by the required amount of Cleartec® Media and the aeration tank geometry. The modular design of Cleartec® provides an easy to install and low maintenance system.
The Cleartec® module consists of: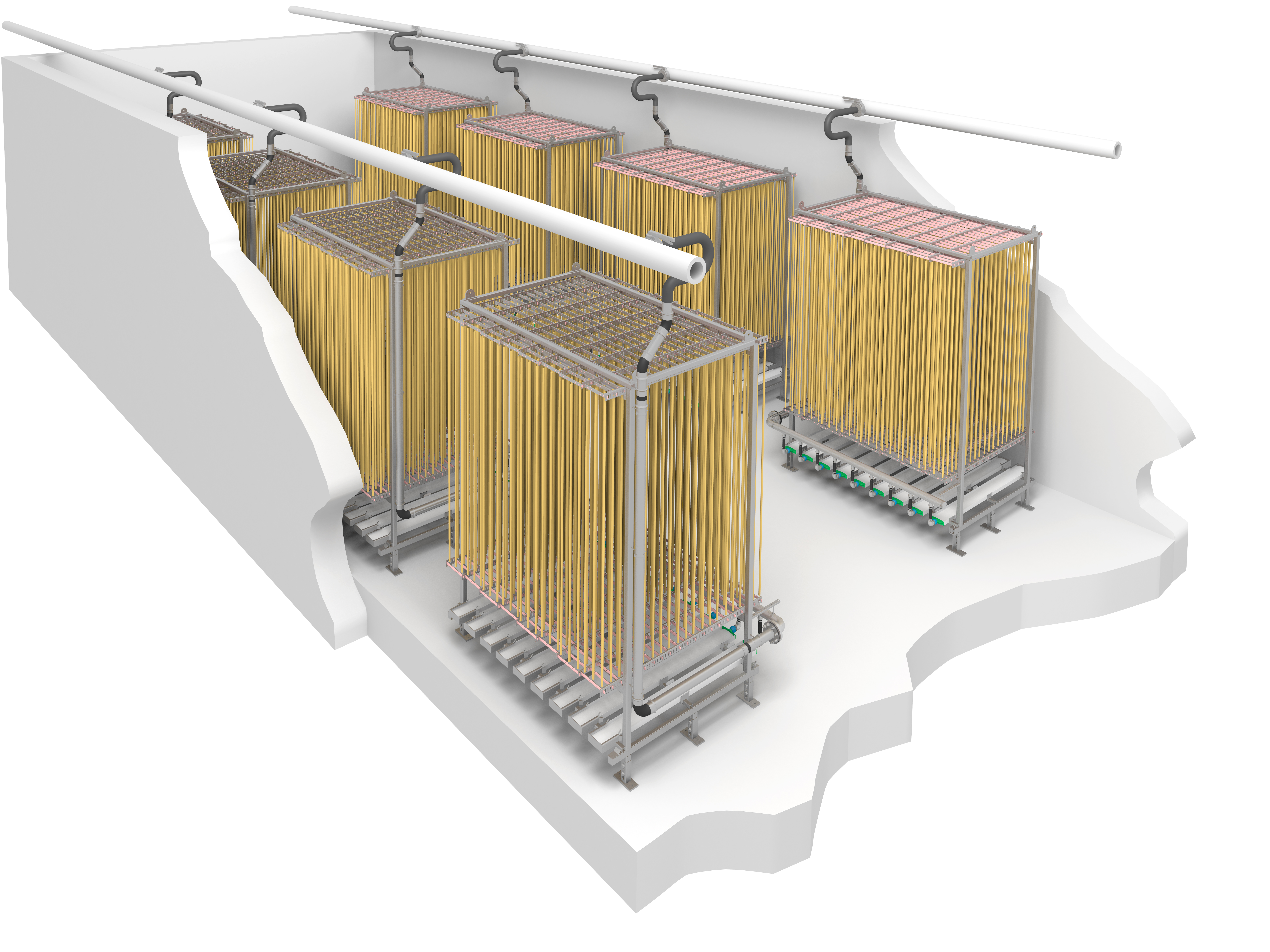 1. Stainless steel module
The stainless steel module serves as a supporting structure for Cleartec® Media (Biotextile and BioCurlz). The biotextile panels are fixed in the module by support tubes which are built into fixing loops. Each biotextile sheet has up to four loops, depending on the total material length. BioCurlz are fastened in the module by metal-reinforced support rods.
2. Cleartec® growth media
The textile structure of Cleartec® BioTextile and BioCurlz offers a large surface area and high roughness. It supports ideal conditions for the growth of biofilms. The textile flexibility associated with the air flow generated by diffuser regulates the biofilm thickness and prevents media clogging.
3. Diffuser
Fine bubble aeration diffuser are installed underneath Cleartec modules and the textiles. The diffuser have two functions to supply microorganisms with oxygen and to create a vertical flow. This vertical flow helps to control the biofilm thickness and contributes to its constant regeneration. It easily removes parts of the old biofilm and provides space for new active microorganisms to attach themselves to the media.
Clarifier with Cleartec-Biocurlz
Advantages of the Cleartec® module for wastewater treatment
Optimal growth conditions of the biomass

Easy handling of the individual modules – even during operation

Durability and time saving through maintenance-free operation
Please select a country – the appropriate contact will be displayed.