Cleart­ec® Mod­ule
Cleart­ec® Bio­tex­til and BioCurlz are used as ful­ly sub­merged fixed beds in the bio­log­i­cal stage of a waste­water treat­ment plant. The media are fixed in a stain­less steel mod­ule that can be mount­ed above an exist­ing aer­a­tion sys­tem or with inte­grat­ed dif­fuser. The mod­ule dimen­sions are influ­enced by the required amount of Cleart­ec® Media and the aer­a­tion tank geom­e­try. The mod­u­lar design of Cleart­ec® pro­vides an easy to install and low main­te­nance sys­tem.
The Cleart­ec® mod­ule con­sists of: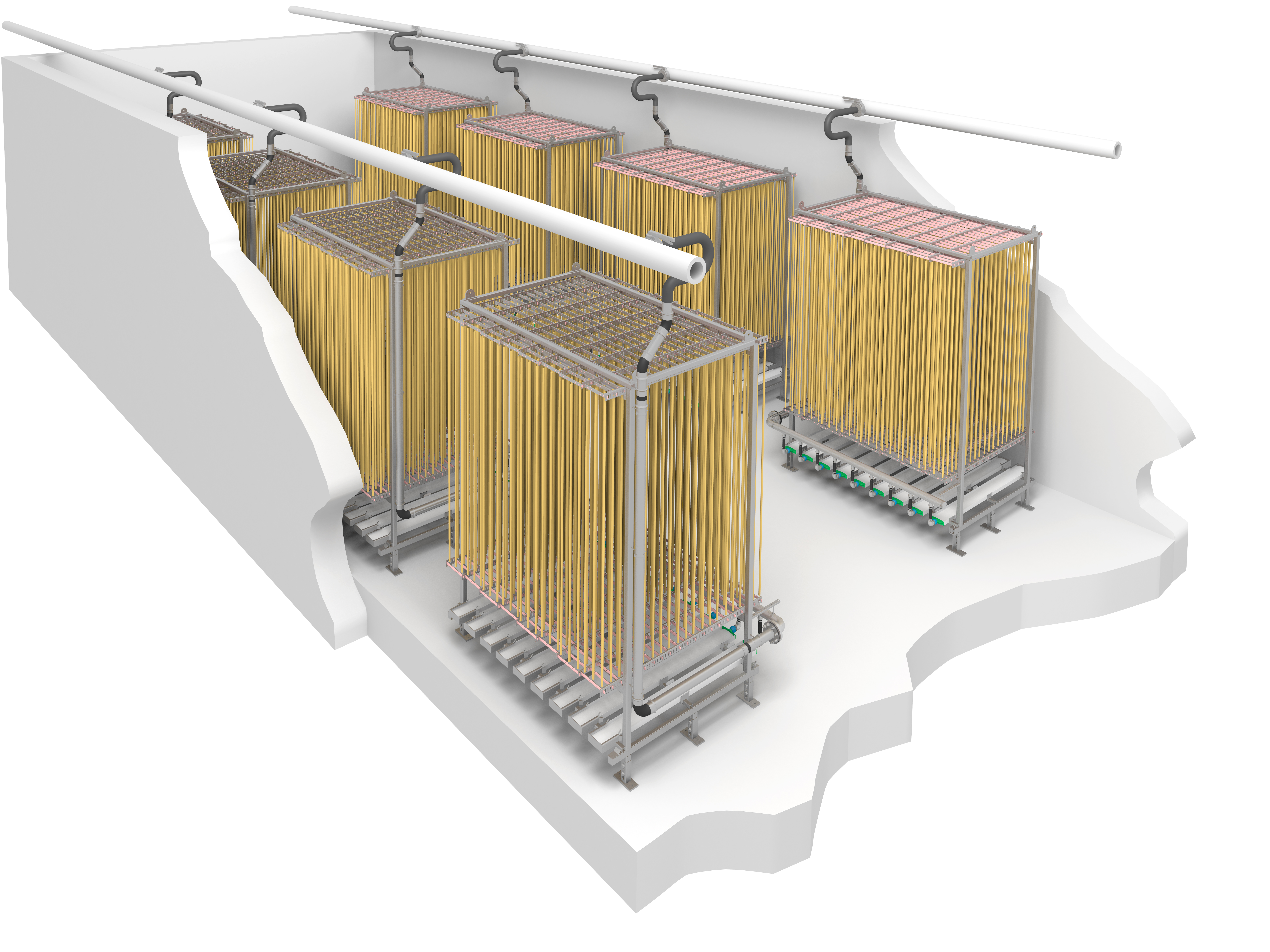 1. Stain­less steel mod­ule
The stain­less steel mod­ule serves as a sup­port­ing struc­ture for Cleart­ec® Media (Bio­tex­tile and BioCurlz). The bio­tex­tile pan­els are fixed in the mod­ule by sup­port tubes which are built into fix­ing loops. Each bio­tex­tile sheet has up to four loops, depend­ing on the total mate­r­i­al length. BioCurlz are fas­tened in the mod­ule by met­al-rein­forced sup­port rods.
2. Cleart­ec® growth media
The tex­tile struc­ture of Cleart­ec® Bio­Tex­tile and BioCurlz offers a large sur­face area and high rough­ness. It sup­ports ide­al con­di­tions for the growth of biofilms. The tex­tile flex­i­bil­i­ty asso­ci­at­ed with the air flow gen­er­at­ed by dif­fuser reg­u­lates the biofilm thick­ness and pre­vents media clog­ging.
3. Dif­fuser
Fine bub­ble aer­a­tion dif­fuser are installed under­neath Cleart­ec mod­ules and the tex­tiles. The dif­fuser have two func­tions to sup­ply microor­gan­isms with oxy­gen and to cre­ate a ver­ti­cal flow. This ver­ti­cal flow helps to con­trol the biofilm thick­ness and con­tributes to its con­stant regen­er­a­tion. It eas­i­ly removes parts of the old biofilm and pro­vides space for new active microor­gan­isms to attach them­selves to the media.
Con­ven­tion­al clar­i­fi­er
Clar­i­fi­er with Cleart­ec-Biocurlz
Advan­tages of the Cleart­ec® mod­ule for waste­water treat­ment
Opti­mal growth con­di­tions of the bio­mass

Easy han­dling of the indi­vid­ual mod­ules — even dur­ing oper­a­tion

Dura­bil­i­ty and time sav­ing through main­te­nance-free oper­a­tion
Please select a coun­try — the appro­pri­ate con­tact will be dis­played.